Meeting: Thursday 2 June 2016
All welcome and it's free!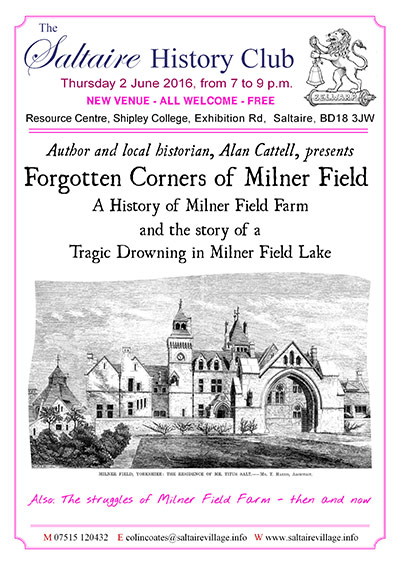 Author and local historian, Alan Cattell, presents
Forgotten Corners of Milner Field
A History of Milner Field Farm
and the story of a
Tragic Drowning in Milner Field Lake

Also
The Struggles of Milner Field Farm - then and now
Please note, new venue
Resource Centre, Saltaire Archive Room
Shipley College
Exhibition Road, Salltaire
Dear History Club Members, Hi. The date of the next meeting of Saltaire History Club is Thurs 2 June, 7 – 9 PM, in the Resource Centre of Shipley College's Exhibition Rd building (Post Code BD18 3JW – see end of message for further directions).

The subject of the meeting will be Milner Field Farm & Estate:

A History of Milner Field Farm & a Tragic Drowning in Milner Field Lake is the title of a presentation by Bingley local historian Alan Cattell. Following Alan's presentation, the current Farmer of Milner Field Farm, David Downs, will describe his family's 100+ years of involvement at the Farm, and the current planning controversy regarding its future.

All welcome (and it's still free)!

Hope very much that you can join us for what promises to be an extremely topical discussion.

Best wishes
Dave (Shaw) for Saltaire History Club

PS The Resource Centre is on the second floor, accessible either by stairs or lift. For those travelling to the venue by car there is a Pay & Display Car Park just above the College, or nearby free on-street parking may be available if your fingers are crossed. There will be someone at the entrance to the building to greet & guide those unfamiliar with its layout.

PPS For those of you who can't make it, the final dates of our 2016 programme of meetings are 8 Sep & 3 Dec, at the usual venue & time.