M

eeting: Thursday 10 September 2015
World War One - Musical Beds
Presented by Kathryn Hughes
&
A story of the West Riding: Wood, Saltaire and the BBC
Presented by Christine Verguson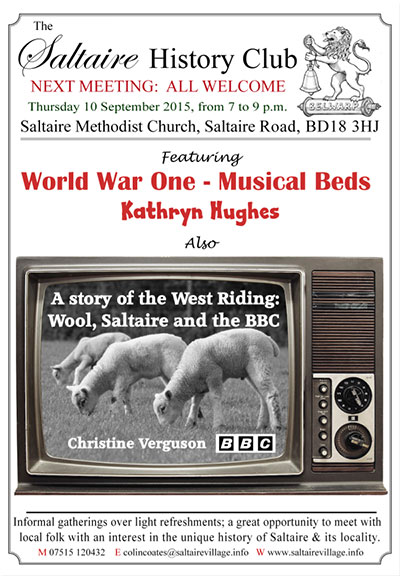 POSTER
Download the poster >

Venue: Saltaire Methodist Church
Saltaire Road
Post code for Sat Navs is BD18 3HJ
ALL WELCOME - and it's FREE!
Thurs 10 September, 7 – 9 pm, Saltaire Methodist Church, Saltaire Road, BD18 3HJ. All welcome!

Dave Shaw: Dear History Club Members, Hi.

The next meeting of the Saltaire History Club is this Thursday 10 Sept, 7 - 9PM, in Saltaire Methodist Church, Saltaire Rd, BD18 3HJ. All welcome!

Many of you will already be aware of the meeting's planned programme through outlets other than this email (Sentinel, local posters).

We had scheduled two features, the first on "World War One – Musical Beds" by Kathryn Hughes; the other "A Story of the West Riding: Wool, Saltaire and the BBC" by Christine Verguson.

Unfortunately, due to a family bereavement, Dr Verguson cannot be with us, but we hope to have Christine with us as a speaker in 2016. Chairman Colin Coates has stepped into the breach, & will give a talk on "Saltaire by Numbers" – a talk that will be drawing on information to be found in the full set of Saltaire censuses.

We also hope to have a report on an ambitious new project under consideration, by Bradford University, involving 3d Laser Scanning of Saltaire's buildings.

Please come along & join in what promises to be a very enjoyable evening.

All welcome, & - as always - admission is free.

We look forward to seeing all who can make it!

Best wishes
Dave (Shaw), for Saltaire History Club

PS For those of you who can't make it, the final date of our 2015 programme of meetings will be Thursday 3 Dec, at the usual venue & time. Please make a note of the date in your new diaries now.