M

eeting: Thursday 4 June 2015
Victoria Hall in WW1
Presented by Colin Coates
&
Towards the end of textile production at Salts Mill
Presented by Maggie Smith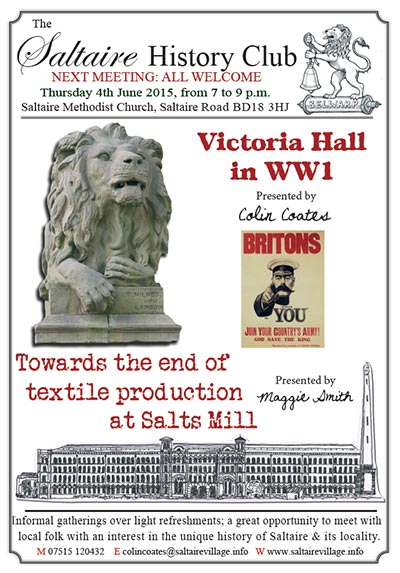 POSTER
VENUE: Saltaire Methodist Church
Saltaire Road
Post code for Sat Navs is BD18 3HJ
ALL WELCOME - and it's FREE!
The next meeting of the Saltaire History Club will be held this Thurs 4 June, 7 – 9 PM, in Saltaire Methodist Church, Saltaire Rd, BD18 3HJ. All welcome!

The evening's meeting will feature two presentations by Club stalwarts, each on subjects newly researched & particularly informative:

"Victoria Hall in WW1" presented by Colin Coates

"Towards the End of Textile Production at Salts Mill" presented by Maggie Smith

As usual, there'll be refreshments available during the interval – a good opportunity to find out who's up to what with their individual researches & interests in Saltaire's wonderful past.

We hope you can join us for what once more promises to be a really good exposure of newly discovered aspects of our local history.

All welcome, & - as always - admission is free.

We look forward to seeing all who can make it!

Best wishes
Dave (Shaw), for Saltaire History Club

PS For those of you who can't make it, the dates of our subsequent meetings this year are 10 Sep & 3 Dec, at the usual venue & time.