Meeting: Thursday 12 March 2015, 7 - 9pm
Catherine Salt
Her families, educational work and hospitalities
Presented by Pauline Ford
&
The future structure of the History Club

Venue: Saltaire Methodist Church
Saltaire Road
Post code for Sat Navs is BD18 3HJ
ALL WELCOME - and it's FREE!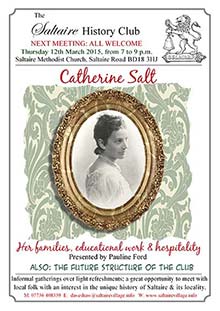 Dear History Club Members, Hi. The next meeting of the Saltaire History Club will be held on Thurs 12 March, 7 - 9PM, in Saltaire Methodist Church, Saltaire Rd, BD18 3HJ. All welcome!
The evening's meeting will be in 2 halves, which will have different formats, the two halves having very different purposes.
The first half is inviting the membership to adopt a new mode of working for the Club – putting it on a firmer foundation, with a written constitution which the meeting will be invited to adopt.
The explanation for this proposed change, the minutes of a meeting of activists who considered this issue earlier this month, & the draft constitution that is now proposed are presented in the document below, available for download. Please take time to study this and come prepared to add any thoughts that you may have on the issue – your views are valued!
PDF file: History Club document with notes and proposed consitution > [Now out of date]
Application form
PDF file: Application form for History Club membership > [Now out of date]
After our usual tea break we'll then spend the rest of the evening doing what we all like doing most – learning about Saltaire's wonderful history. Club stalwart Pauline Ford has been doing excellent research work on a subject where new information is coming to light, & will speak on "Catherine Salt: her families, educational work, and hospitality".
All welcome, & - as always - admission is free.
We look forward to seeing all who can make it!
Best wishes
Dave (Shaw), for Saltaire History Club
PS For those of you who can't make it, the dates of our subsequent meetings this year are 4 June, 10 Sep, 3 Dec, at the usual venue & time.