Meeting: Thursday 4 December 2014, 7 - 9pm
Stories & Songs from WW1
Colin Coates & Eddie Lawler
Christmas Quiz

Venue: Saltaire Methodist Church
Saltaire Road
Post code for Sat Navs is BD18 3HJ
ALL WELCOME - and it's FREE!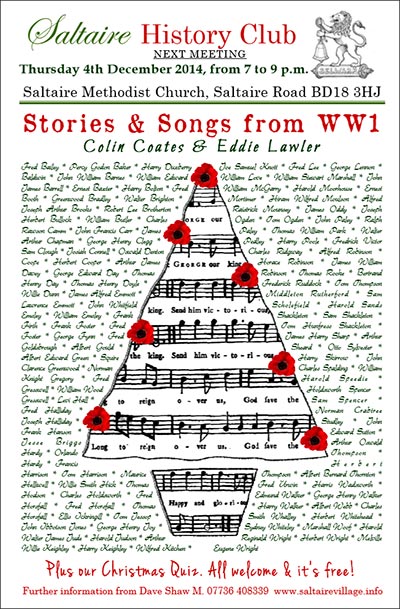 Dear History Club Members, Hi. The next meeting of the Saltaire History Club is this Thursday 4 Dec, 7 - 9PM, in Saltaire Methodist Church, Saltaire Rd, BD18 3HJ. All welcome!
The evening's meeting will be in 2 halves, which will have different formats. The first half will be given over to Stories & Songs of WW1 – firstly Colin (Coates) has prepared a series of short readings; & then Eddie (Lawler) is going to introduce us to some of the music that was popular 100 years ago, & we'll be led through 2 or 3 of the popular songs of December 1914!
After our usual tea break we'll then have our Christmas Quiz – testing your history knowledge & also trying to recognize a few Mystery Objects supplied by Anthony (Briggs)!
Please come along & join in what promises to be a very enjoyable evening.
All welcome, & - as always - admission is free. We look forward to seeing all who can make it!
Best wishes
Dave (Shaw), for Saltaire History Club
PS For those of you who can't make it, we have fixed the dates of our 2015 programme of meetings, at the usual venue & time. Please make a note of the dates in your new diaries now: 5 March, 4 June, 10 Sep, 3 Dec.