Meeting: Thursday 4 September 2014, 7 - 9pm
Baildon's Response to the Great War
Speakers: Mike & Tish Lawson
The finger points at YOU! Persuading men to enlist
Speaker: Richard Coomber
Venue: Saltaire Methodist Church
Saltaire Road
Post code for Sat Navs is BD18 3HJ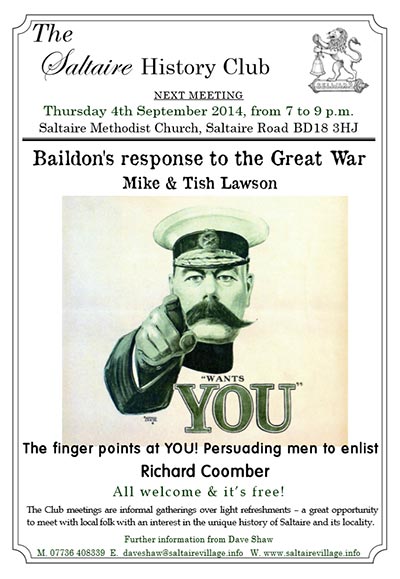 Dear History Club attenders. Hi. The next meeting of our Saltaire History Club is on Thursday 4 September, 7 – 9 PM, at Saltaire Methodist Church, Saltaire Road (Post Code for SATNAV BD18 3HJ).
Parking advice can be given for those unfamiliar with the locality & who need to arrive by car.
There are two talks, both concerning WW1.
The first is by Mike and Tish Lawson, speaking about "Baildon's response to the Great War". They will talk about the role of women when the men went to war, and about the Belgian refugees who received a welcome in the area, plus other entertaining stories.
The second talk is by local writer and historian, Richard Coomber. It is entitled "The finger points at YOU" - the not so subtle art of persuading men to enlist. Richard has recently launched a website to share his research on Shipley's WW1 soldiers. www.shipleyww1.org.uk
Refreshments will be served between these talks, for which a small charge will be made.