Meeting: Thursday 5 June 2014, 7 - 9pm
Managing a World Heritage Site: Some Challenges for the Future
Speaker: Helen Thornton
Saltaire, Lessons from the Past
Speaker: Trevor Hart
Venue: Saltaire Methodist Church
Saltaire Road
Post code for Sat Navs is BD18 3HJ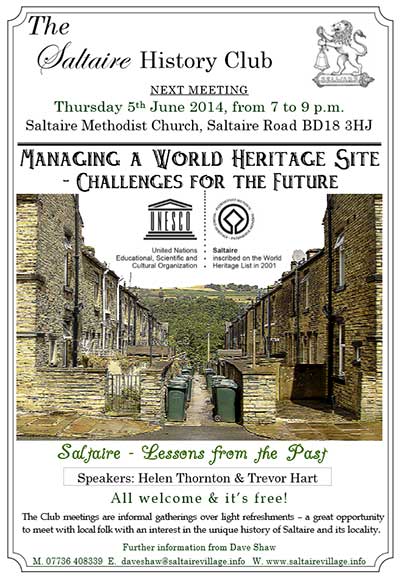 Dear History Club Members, Hi. The next meeting of our Saltaire History Club is this Thursday 5 June, 7 – 9 PM, at Saltaire Methodist Church, Saltaire Road (Post Code for SATNAV BD18 3HJ). Parking advice can be given for those unfamiliar with the locality & who need to arrive by car.
We have two excellent speakers in what promises to be an outstanding meeting:
"Managing a World Heritage Site - Some Challenges for the Future" by Helen Thornton. Helen is our World Heritage Site Officer. Now a year in post, she will present an illustrated talk about the importance of Saltaire - sharing some feedback she has had from residents about how it should be managed, & talking about some current projects and her (mainly optimistic) views about challenges for the future.
"Saltaire - Lessons from the Past" by Trevor Hart, Visiting Research Fellow, Dept of Architecture, Planning and Landscape, University of Newcastle upon Tyne. Town planner Trevor has been living in Saltaire for 14 years, having previously spent time working in a New Town (Runcorn). His talk will be reflecting on whether Saltaire, as a planned community, can teach us any lessons for planning new communities today - perhaps relevant in the light of George Osborne announcing a new programme of 'garden cities' in this year's budget
Entry is, as always, free to all – please come along & bring a friend!
Hope you can make it!
Best wishes
Dave (Shaw), for Saltaire History Club