Meeting: Thursday 6 March 2014, 7 - 9pm
Coal Mining & Brick Making
in North Bradford

Venue: Saltaire Methodist Church
Saltaire Road
Post code for Sat Navs is BD18 3HJ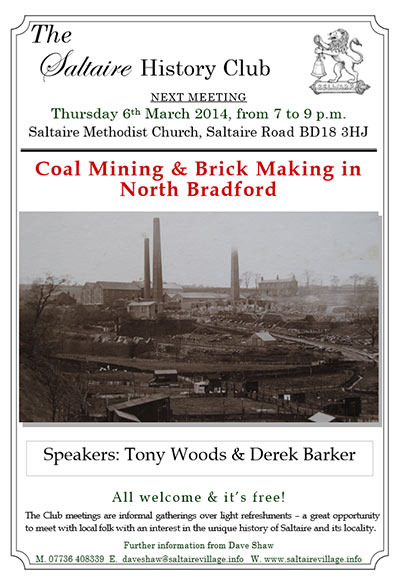 Dear History Club Members, Hi. The next meeting of our Saltaire History Club is this Thursday 6 March, 7 – 9 PM, at Saltaire Methodist Church, Saltaire Road (Post Code for SATNAV BD18 3HJ). Parking advice can be given for those unfamiliar with the locality & who need to arrive by car.
Two complementary topics will feature in our programme, with presentations by recognised authorities in their specialised fields. Mineral deposits in our locality will be a new subject for our Club members to learn about - our first speaker is Tony Woods with a talk entitled "Industry, Family & Society: Fyfe's of Shipley, 1850-1930". The Fyfes were part of a rising middle class in Shipley involved in coal and lime kiln workings, brickworks and, later, a coal business. Our second speaker is Derek Barker with a talk entitled "Hard & Soft Beds: the archaeology of coal-mining and brick-making in north Bradford".
Tony & Derek are well-known for their joint researches in these fields, having published in more than one journal, including the Bradford Antiquary. Our meeting provides a rare opportunity for us to learn about subjects that must have featured heavily in our local Saltaire history.
Entry is, as always, free to all – please come along & bring a friend!
Hope you can make it!
Best wishes
Dave (Shaw), for Saltaire History Club