Meeting: Thursday 5 December, 7 - 9pm
The Aesthetics of Utopia - Cloth & History
Venue: Saltaire Methodist Church , Saltaire Road
Post code for Sat Navs is BD18 3HJ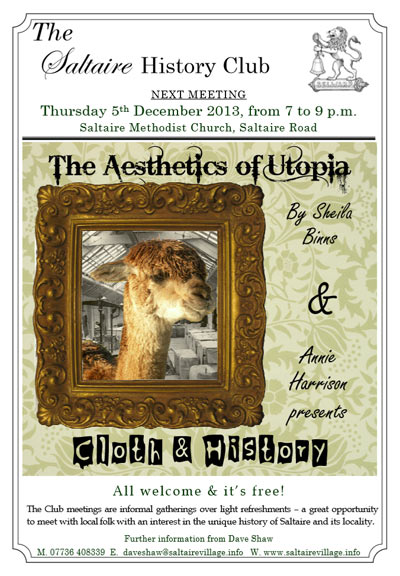 The next meeting of Saltaire History Club will take place on Thursday 5th December, 7 – 9 PM.
The venue is a change to our recent home, but one where we have always been given a warm welcome – the Saltaire Methodist Church, Saltaire Road (Post Code for SATNAV BD18 3HJ). Parking advice can be given for those unfamiliar with the locality & who need to arrive by car.
Two presentations will feature in the programme, each with a speaker who in their researches have notably engaged with local historians and the wider community.
Always to be welcomed are new, well researched books on Saltaire & similar model industrial developments. "The Aesthetics of Utopia" is newly published & presents accounts not only of Saltaire but also of Akroydon & Bedford Park. Its author Sheila Binns is our first speaker of the evening. Copies of the new book will be available to buy.
Equally welcomed is our second speaker, artist Annie Harrison. Annie's innovative creativity was evidenced at the recent, highly successful "Cloth & History" Exhibition held in Salts Mill. Engaging with former workers from the Mill, Annie has, with the help of technology, given oral history recording a new, interactive dimension. How this is achieved will be explained by Annie, who will also discuss her ideas for the future.
The Club is honoured to have both Sheila & Annie speaking at our meeting. Both are at the top of their game, both will no doubt give us new perspectives of Saltaire's wonderful history.
Entry is, as always, free to all & mince pie refreshments during the interval will ensure this last meeting of 2013 has a festive air. All welcomed!