Meeting: Thursday 5 September, 7 - 9pm
Saltaire's WW1 Commemoration Plans
We invite you to:
Help plan the commemorations by joining us at an open forum meeting

Venue: Salt's Building, Saltaire
(Opposite Victoria Hall)
Post code for Sat Navs is BD18 3LQ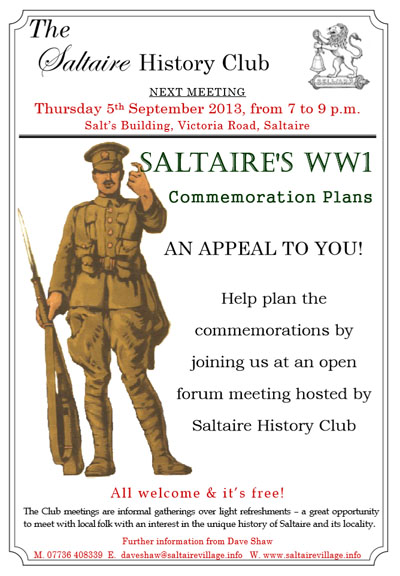 The next meeting of the Saltaire History Club is on Thursday 5 September, 7 - 9PM, in Salt's Building, Victoria Road, Saltaire.
Dear Friends,
I write on behalf of Saltaire History Club to invite you/ your friends/ colleagues to an Open Forum to plan commemorations in Saltaire to mark the events of World War 1. The Forum is being held this Thursday evening, 5 Sept, 7.00 – 9.00 at the Salt Building (opposite Victoria Hall) Victoria Rd, Saltaire.
2014 will see, nationwide, centennial commemorations of the events of World War 1. Like other communities throughout the UK and beyond, Saltaire people suffered greatly in the period 1914 – 1918.
Virtually every street in Saltaire had close associations with young men who were killed. Many more soldiers were wounded, and those who served and survived suffered great deprivations. The civilian population in the village had to get through a very severe time, with everyday life badly affected in many ways.
The plan is to commemorate these events in a fitting way in Saltaire and its neighbouring communities. All those interested in helping are invited. Representatives from local churches, societies, educational establishments are particularly invited, as are individuals who have ancestry in Saltaire & who may be able to contribute to our knowledge.
There will be short presentations at the forum of our current knowledge of historical events and our researches. Funding opportunities and existing activities will also be discussed. Views will be canvassed on how best to proceed, and hopefully from that a planning group can be established to progress the work. Refreshments will be available.
Please come along on the 5th & help us plan the commemoration of this important period in Saltaire's history.
All welcome, & free admission!
Look forward to seeing all who can make it!
Best wishes
Dave (Shaw), for Saltaire History Club