Meeting: Thursday 6 June 2013, 7 - 9pm
Bradford Mills at Marki, Warsaw
by Sarah Dietz
&
Abraham Broadbent - The unknown sculptor of Cartwright Hall
by Harriet Townsend

Venue: Victoria Hall (Evans Room)
Saltaire
Post code for Sat Navs is BD18 3LQ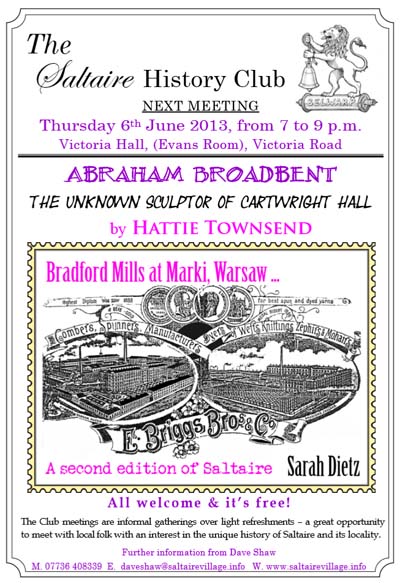 The next meeting of the Saltaire History Club is on Thursday 6 June, 7 - 9PM, in Victoria Hall, Victoria Rd, Saltaire.
Two speakers, both looking further afield than Saltaire for their interesting subject matter:
"Bradford Mills at Marki, Warsaw" by Sarah Dietz - looks at a model textile township near Warsaw, developed by Bradford-based textile magnates in the 19th and early 20th century with links to Saltaire.
"Abraham Broadbent" by Hattie Townsend is an account of sculptor Abraham Broadbent who contributed to Cartwright Hall's success.
All welcome, & free admission!
Look forward to seeing all who can make it!
Best wishes
Dave (Shaw), for Saltaire History Club