Meeting: Thursday 1 March 2012
World War I
Sacrifices and Commemorations
Three speakers:
Tricia Platts, Jim Humphries and Dave Shaw

NOTE THE VENUE:
Shipley College, Victoria Road
(opposite Victoria Hall) 7 – 9 pm.
ALL WELCOME - and it's FREE!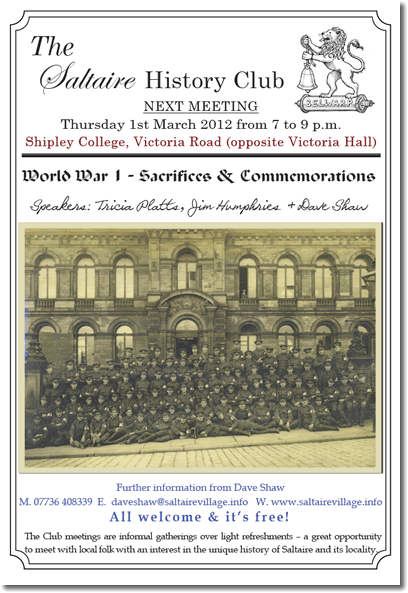 Dear Friends,
Greetings, & a particularly warm welcome to those new Members of the Club who have signed up recently – it's good to have you join us.
The next meeting of our Club is scheduled for this Thursday 1 Mar, the venue being Shipley College, Victoria Road (opposite Victoria Hall). Post code for Sat Navs is BD18 3LQ. As usual the meeting will be held 7 – 9 pm. Entry, as always, is free.
We are devoting the meeting to a subject not previously addressed at our meetings: "Sacrifices & Commemorations of World War 1". Dozens of Saltaire men lost their lives in the conflict; hundreds served; & everyone suffered deprivations brought by the War. In 2014 - the centenary of the War's outbreak – commemorative events will be staged.
We are fortunate to have two recognised authorities speaking on the subject. Tricia Platts is a leading member of the Bradford World War 1 Group & co-editor of the well-received book "Bradford in the Great War". Tricia will speak on "The Cotterell Brothers" – revealing through recent research findings the fates of these two soldiers. Also from the Group, Jim Humphries will present details of the work of the Group, & their involvement with Bradford Museums & Art Galleries in planning for the commemoration in 2014. Both Tricia & Jim are expert in investigating WW1 material, & hopefully we can all learn from their expertise.
Maintaining the meeting's WW1 theme, our own Hattie Townsend will set the scene for the drama "After the War Was Over" which will be fully staged during Saltaire's World Heritage Weekend in April, & I'll be introducing the contents of a Salts Mill WW1 book of press cuttings that has turned up at the Industrial Museum.
Last but certainly not least there'll be a display of recent acquisitions by Saltaire Archives - items that the late Clive Wood's held, which have only surfaced four years after our sad loss of Clive.
We very much hope you are able to be with us on Thursday,
Best wishes
Dave (Shaw)