Meeting: Thursday 22 September 2011
HOT OFF THE PRESS!! Two new books on Saltaire
Fascinating talks by the authors:
Milner Field – The Lost Country House of Titus Salt Junior:
A Tragedy in Four Acts
by Richard Lee-Van den Daele and R. David Beale
And
Penny for Going - A History of Saltaire and its Regeneration
told through its shops
by Roger Clarke
Shipley College, Victoria Road
(opposite Victoria Hall) 7 – 9 pm.
ALL WELCOME - and it's FREE!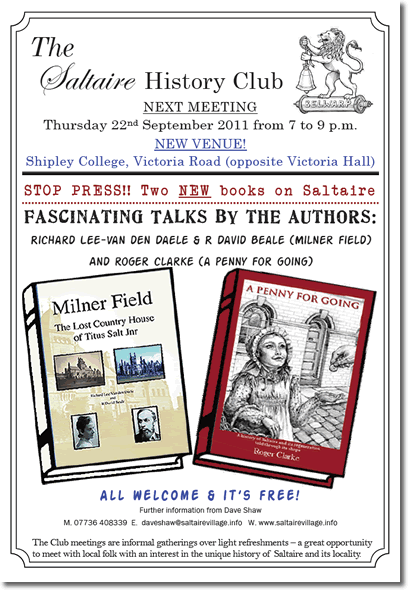 Dear Friends,
Greetings. Hope everyone living locally is enjoying the Saltaire Festival, which reaches a climax over the coming weekend. There are lots of events to enjoy, but one in particular should appeal to all Saltaire history buffs – a showing of Yorkshire Film Archive's Saltaire in Film from 1910s to 1980s which can be seen on Sat 17 Sep (1:00 PM - 5:00 PM) & Sun 18 Sep (1:00 PM - 4:00 PM). The programme is a 20 min sequence, showing continuously. Entry is free, and the venue is the PACE Canteen, Victoria Road.
Our next History Club meeting is on Thurs 22 Sept – at a new venue - Shipley College, Victoria Road (opposite Victoria Hall). Post code for Sat Navs is BD18 3LQ.
The meeting features talks on not one but two brand new books on Saltaire history:
Penny for Going - A History of Saltaire and its Regeneration told through its Shops

by Roger Clarke

Milner Field – The Lost Country House of Titus Salt Junior: A Tragedy in Four Acts

by Richard Lee-Van den Daele and R. David Beale (Follow this link for more information about this book>)
These publications undoubtedly mark a new high in the telling of Saltaire's wonderful history, and we look forward to you joining us to celebrate their publication.
Our meeting will be held, as usual, from 7 – 9 pm. Entry, as always, is free – but bring your wallets and purses ready to buy your copies of the books – the authors will be signing copies on the night!
Best wishes
Dave (Shaw)