Meeting: Thursday 16th June 2011
Sir Titus Salt and the orphans of Hull
by Craig McHugh
Saltaire 1877: A Church Divided
by Tish Lawson

Saltaire Methodist Church
Saltaire Road, Saltaire, 7 – 9 pm.
ALL WELCOME - and it's FREE!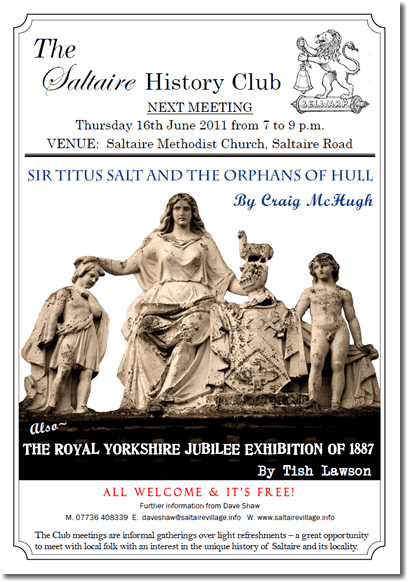 Dear Friends,
Greetings. Trust this finds everyone well, and continuing to enjoy Saltaire's heritage. Since our last History Club meeting we've been served well by both the World Heritage Weekend in April and the Saltaire Arts Trail in May, giving us plenty of reasons to celebrate what Saltaire has to offer.
Our next History Club meeting promises two excellent speakers on two equally interesting subjects.
The first is Craig McHugh, the World Heritage Site Officer of Bradford Metropolitan Council. Well known to most of us, Craig has held the post for four years. His earlier professional experiences include the National Coal Mining Museum near Wakefield and Thinktank, the Birmingham Science Museum. He previously lived and studied in the Ironbridge Gorge World Heritage Site. Craig's talk is entitled "Sir Titus Salt and the Orphans of Hull".
Our second speaker is Tish Lawson. Tish is also well known to most of us and is active in her local history researches in both Saltaire & Baildon.Tish was until very recently the Senior Archivist at West Yorkshire Archives in Bradford, and the title of her talk is "The Royal Yorkshire Jubilee Exhibition of 1877" – an exhibition that led to permanent enhancement of Saltaire's life.
Homemade cakes and buns will be available during the interval – courtesy of Craig – with sales in aid (following Sir Titus' example) of the Sailors' Families Society, which supports children whose families have served in the fishing fleets or in the Royal or Merchant Navies.
Our meeting will be held, as usual, at Saltaire Methodist Church, Saltaire Rd, Saltaire, 7 – 9 pm.
Looking forward again to seeing everyone who can make it,
Best wishes
Dave (Shaw)