Meeting: Thursday 10 December 2009

Shipley College, Exhibition Rd, Saltaire, 7pm – 9 pm
Saltaire's Model Public Park:
Creation and Rejuvenation
By Erika Diaz Petersen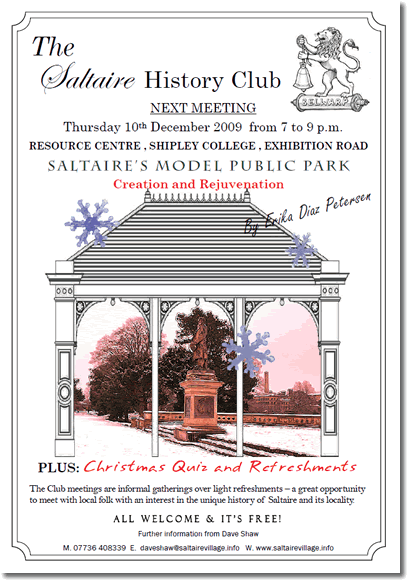 Dear Friends,
Greetings! Just to let you know about our next meeting, when we will be featuring a talk on a highly topical subject – Roberts Park. Most of you will have seen the good progress being made with its restoration, which is being done under the expert guidance of a company specialising in such work – Hilary Taylor Landscape Associates Ltd.
We have the very good fortune of having the company's senior consultant, Erika Diaz Petersen as our guest speaker. Erika will describe the original creation of the park in the context of the design of the village, and the movement to create public parks in the 19th century. She will also explain the current work to restore the park, which is informed by careful research of the park's original design.
The restored park should give all of us an increased sense of pride in Saltaire's heritage, and Erika's talk will allow an informed appreciation of Sir Titus' intentions in its provision.
Also at the meeting we'll be having a Christmas drink and refreshments, and we'll be testing our knowledge of with a light-hearted Quiz on Victorian life.
As usual, our meeting will be held in Shipley College, Exhibition Rd, Saltaire, 7 – 9 pm, when you will also be able to catch up on the latest history findings on Saltaire.
We very much look forward to seeing you again on the 10th.
Best wishes
Dave
2009 - A SUCCESSFUL YEAR FOR THE HISTORY CLUB

Dave Shaw writes: Hi All & Congratulations - the December 09 meeting was our best attended yet – we had over 60 people present, and a few more people signed up for membership. Our mailing list now stands at 114.
Jim Duncan did the Club proud with the Sentinel publicity, and Pamela's poster was a cracker.
Many thanks too to Tish for the really good way she chaired the meeting, & to Maria, Sally, Hattie & Pamela for the refreshments, the quiz, and the bookmarks. The bookmarks are great – miniature works of art, and the family membership system was a great way of mixing people up. Thanks for the plug for the Club dates on the bookmarks, Maria.
It's great that the Club ended 2009 on such a high note, and our network of history activists is spreading in a very healthy way.
Best wishes to you and your families for Christmas and the New Year,
Dave