Meeting: 1 October 2009

Shipley College, Exhibition Rd, Saltaire, 7pm – 9 pm
"THE GOLDEN AGE OF POSTCARDS "
By Graham Hall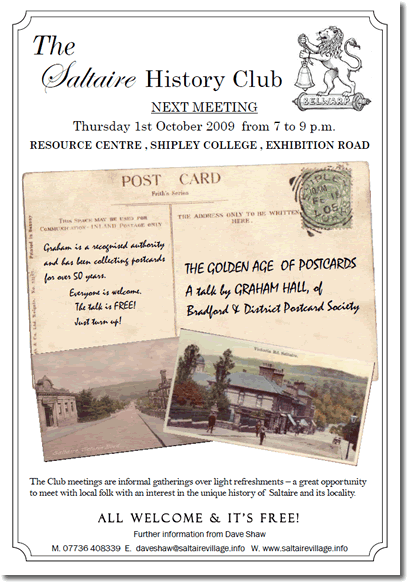 Dear Friends, Greetings All, especially to any receiving their first emailing from the Club.
Hope everyone is ready to enjoy an Indian summer - the weather forecast for the Festival is looking really good.
On Thursday 1 Oct we will be having our next History Club meeting, and it promises to be one of our best yet. We're devoting it to The Golden Age of Postcards. Some early postcards of Saltaire provide unique pictorial records of our buildings, and of the village's environs. To make sure we get the most out of it, we have a recognized expert to talk on the subject.
GRAHAM HALL
Graham Hall, secretary of the Bradford & District Postcard Society, has been collecting postcards for over 50 years and has an unrivalled collection of more than 12000 different postcards of Bradford. He is a recognized authority on the early use of postcards and of their printing, including that done by printers in the Bradford area. Graham will describe the role played by postcards from their earliest beginnings. After the break, we will be having an open session looking specifically at Saltaire postcards from various collections.

There will, of course, be the usual opportunity to meet others with an interest in the history of our World Heritage Site over coffee/ biscuits.
Also as usual, we will have on sale various books, videos, etc relating to Saltaire history, at advantageous prices.
THE SALTAIRE CALENDAR
Two new lines will be on sale. Firstly there's a super new Saltaire calendar for 2010, produced by our own webmaster Pamela Reynolds, with proceeds helping support the village website. Each month of the calendar carries a beautiful image of Saltaire, with our lions out on the town...! [Follow this link for more images of the calendar]
BURIAL RECORDS FOR ST. PAULS, SHIPLEY
Secondly we have a limited number of the newly produced CDs of the burial records etc for St Pauls, Shipley. This is a great data base, created by Bradford Family History Society, recording 100s if not 1000s of burial records of Saltaire's past inhabitants.
As usual, our meeting will be held in Shipley College, Exhibition Rd, Saltaire, 7 - 9 pm.
So, lots to see and learn about - we very much look forward to your company.
Best wishes
Dave Shaw
Added to website: 9 September 2009