Meeting: 18 June 2009
Shipley College, Exhibition Rd, Saltaire, 7pm – 9 pm
"CELEBRATING 150 YEARS OF
SALTAIRE CHURCH "
By Len Morris
&
THE WHITLAMS... Who are they?
Revealing the family of
Lady Caroline Salt
by David King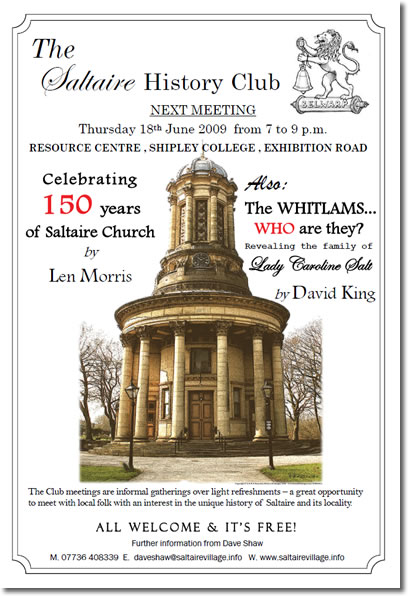 Dear History Club Members / Friends,
Greetings, and I hope everyone is well.
I'm pleased to report that the second issue of The Saltaire Journals has now been published and is freely available. Many of you will have received hand-delivered copies through your letterboxes; some will receive a copy through the Royal Mail in the coming days. Our intention has been to ensure all regular attendees of the History Club get a copy.

The main feature of the second issue is a paper by Roger Clarke entitled "The Saltaire Conversaziones" . The Journal also carries history "news snippets" and a couple of book reviews which we hope you also find interesting.
If you haven't received a printed copy by the end of this week and are keen to do so, please get in touch. Copies will be despatched on a first-come basis.
Needless to say, a lot of work has been involved in production of the latest issue. Particular thanks go to Roger for all his researches; to Roger's daughter Katie for some very original artwork; to Pamela (Reynolds) for getting the Journal into publishable shape (both online and printed); and to David King for his book review piece. Many thanks indeed to all four of them!
We're anxious that The Saltaire Journals is sustained as being freely available to a global audience, with a system of formal and permanent deposition at the British Library. If you have original researches relating to Saltaire that you would like to see published, please let us know.
So hope you enjoy the latest issue, and we look forward to seeing everyone at our 18th June meeting (Shipley College, Exhibition Rd, 7 – 9 pm.)
With best wishes
Dave