Meeting: 11 December 2008

Shipley College, Exhibition Rd, Saltaire, 7pm – 9 pm
The Saltaire History Club presents:
"THE STORY OF SALTAIRE - Film Producer and Director, David Weber
Introduces his new film
and "THE CHRISTMAS QUIZ "
How much do you know about Saltaire?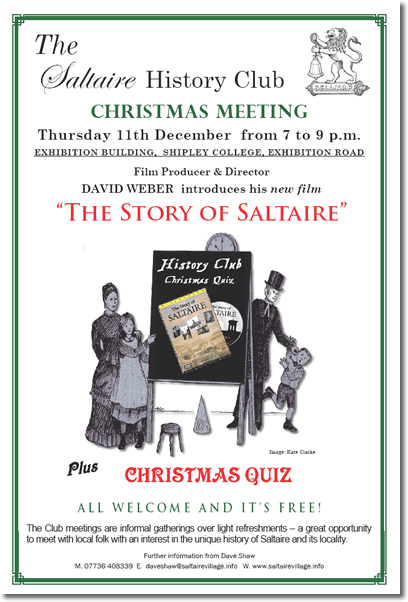 Dear History Club Members - and anyone else interested in attending!
December Greetings! It's a time of year when things get a bit hectic, so all the more reason to award yourself a couple of hours of quality time and come along to our meeting next week, Thurs 11 Dec.
The meeting will be at the usual time and place - 7pm at Shipley College, Exhibition Rd. We've got something really new for you to see and hear. plus a bit of Christmas festivity.
It's a rarity to have new, substantive accounts of Saltaire's history being told, and there has never been a film that does that – until now. This Autumn saw the culmination of years of work by film producer and director David Weber to bring to the screen his most ambitious film to date "The Story of Saltaire".. The film will be shown at the meeting, with David on hand to discuss its production. It's an occasion that none of us can afford to miss.
We'll also be having a (Saltaire) History Quiz over a Christmas drink with mince pies, and some of Hattie's Santiago cake – so plenty of opportunity to socialise and have a good old history gossip.
Two interesting developments to mention on new history findings:-
Most of Sir Titus and Lady Caroline's 11 children did not themselves go on to have children, and in the present day only two lines of the family were known to have survived – the descendants of Titus Jr (including well known friends Denys, Dan, Nick, Jonathan, Miranda, and Ben Salt); plus the descendants of Sir William Henry, including the current baronet Sir Patrick Salt. No other lines of descent were confirmed as existing, although there was the possibility of Herbert Salt's line having lived on for a few generations. Now – three cheers for the Village Website – we have been contacted by Herbert's great grand-daughter Pat, living in Colchester. We now have an ongoing dialogue with Pat, who hopes to get up to Saltaire for the first time in 2009.
More locally, for those of us who frequent the Mill, look out for a couple of new displays next to the History Exhibition on the second floor. Maggie and her staff have mounted two detailed site plans of the Mill in the early 20th century which provide invaluable accounts of the Mill's ongoing development. The plans are wonderfully detailed, and well worth a special visit for those wanting to track in detail the Mill's evolution.
Enough for now - the only way to really catch up on this sort of gossip is to come along to the meeting. Look forward to seeing you there! I'm off to Santa's grotto to tell him what's top of my Christmas shopping list - an alpaca anorak.
Dave