Meeting: 26 June 2008

Shipley College, Exhibition Rd, Saltaire, 7pm – 9 pm
The Saltaire History Club presents:
"THE BUILDINGS OF SALTAIRE - AN ARCHITECT'S PERSPECTIVE"
by Tim Smith
and "A TIME IN OUR LIVES"
by Greg Thomson
also "THE 1883 EXAM PAPERS OF SALTS SCHOOLS"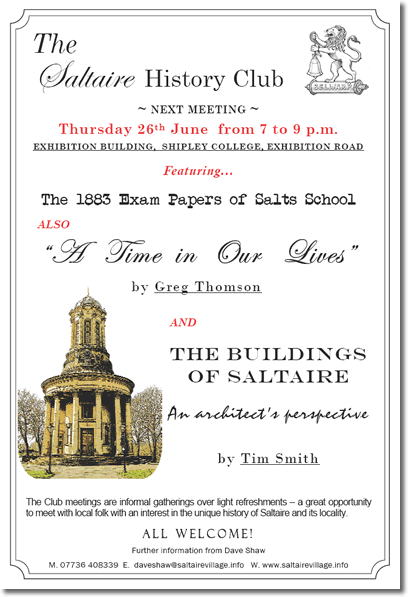 Dear History Club Members - and anyone else interested in attending!
Greetings All. It's good to report that the programme for our June meeting is really diverse – something for everyone!
Our lead speaker is Tim Smith, of the well-known Saltaire-based architectural partnership of Rance Booth & Smith. Tim's talk - "The Buildings of Saltaire: an Architect's Perspective" will explain how the Gothic & Renaissance styles preceded the Italianate theme that Lockwood & Mawson adopted in Saltaire, and how new technologies – use of iron in buildings etc – influenced their designs. A really good opportunity for us to understand better our wonderful World Heritage architecture.
In addition to our main speaker, we welcome new writer and publisher Greg Thomson, who will be introducing his book "A Time In Our Lives". This is a fascinating account of a group of teenagers who used to meet, in the 1960s, in Saltaire Sunday School. After 45 years the group recently got back together and Greg's account of the "then and "now" of the group is special in its analysis of what made the group tick. Greg will be signing copies of his book (a very reasonable £8.95) during our coffee break.
There will also be a chance to pitch your educational knowledge against that of your great great grandparents! We have acquired The Salts School Exam Papers of 1883, so if you fancy your chances in a 19th century test of your Algebra, English, Latin, Music etc, this is your night! Be warned – the questions are hard!
Even the coffee break will be different – thanks to your support, we've been able to buy some proper mugs to drink out of.
As usual, our meeting will be held at Shipley College, Exhibition Rd, Saltaire starting at 7pm, and ending at 9pm.
Two irresistible hours of Saltaire history – and it's free!
Look forward to seeing you there!
Best wishes for the weekend
Dave