Meeting: 31 January 2008

Shipley College, Exhibition Rd, Saltaire, 7pm – 9 pm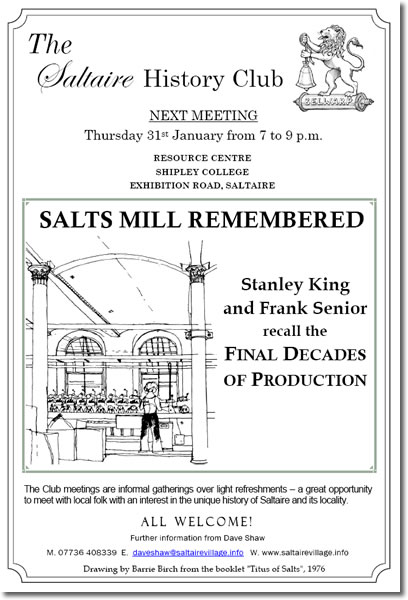 Dear Friends,
Hope you all had an enjoyable Christmas, and are looking forward to 2008.
We can be confident that 2008 will be a year of significant advance in our knowledge of the history of Saltaire. The opportunities for making that advance have never been better, and if you would like to be actively involved in that research please let us know.
Our first meeting in 2008 is on Thursday 31st Jan, at the usual time and place: 7 – 9pm, at Shipley College, Exhibition Road.
The theme of the evening is "Salts Mill Remembered - Stanley King and Frank Senior Recall the Final Decades of Production". It promises to be a really good meeting. Stanley is well known as a local councilor and former Lord Mayor of Bradford, and worked for several decades in the Mill. Frank's Saltaire roots are even deeper, having been born in Katherine St, and having followed his parents into work at the Mill as a 14 year old in 1934.
The evening will not have formal presentations – the idea is to invite discussion and questions, so if you want practical information about past life in Saltaire and conditions in the Mill, just turn up and have your questions answered by those who lived through it.
We'll also be showing some old photos of the Mill interior during its textile days, inviting anyone who worked in the various departments to explain and describe what it was like.
So, look forward to seeing you on the 31st, but in the meantime...
Best wishes for the New Year!
Dave
P. S. Most, but not all, of our members are on email, but we are also mailing those who are not. If you know of anyone who would like to be put on our circulation list, please let us know; better still bring them along to our meetings!