SALTS MILL- THE SILVER YEARS
Fourth installment: It is twenty years since Jonathan Silver bought Salts Mill; Roger Clarke got the true story of those years from Maggie Silver.

In 1995, Jonathan contracted pancreatic cancer. In September of that year he had an eight hour operation, which seemed to be successful. However, eighteen months later the cancer had returned and was also effecting his liver. A radical new drug proved ineffective. Jonathan Silver died on September 25th 1997, a month before his 48th birthday.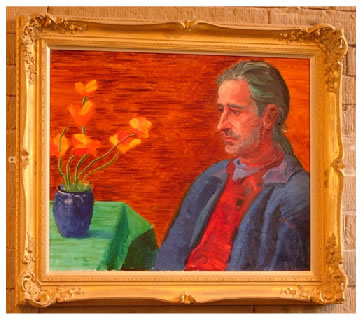 David Hockney was a great support during those final months. The pictures which Maggie has brought to fill a gap in the gallery which housed his watercolours of the Wolds and East Coast were particularly poignant. There are two pictures together, one showing Jonathan's vulnerability and the other a much stronger characterisation. These were painted in Los Angeles, where Jonathan went especially for the sitting. But he couldn't wait to get home, as Maggie recalls: "He liked his own bed best". There are the iconic sunflowers on a huge card and there is The Road Across the Wolds , which road David travelled daily when Jonathan was more seriously ill. Finally, there is the triptych, framed and displayed with a reverence which is extremely emotional, showing as it does Jonathan's face, which he asked David to paint especially to counter the other images which showed vunerability, when he had only a short time to live. On the back, Hockney has written "Like a silk hat on a Bradford millionaire" (from The Wasteland by T.S.Eliot)
To be continued... Go to previous | Next