PLENTY IN THE PARK -
CHOCOLATE, CONCERTS AND CRICKET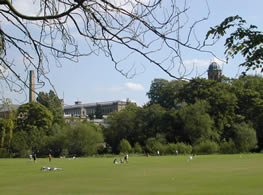 For all the plans for major renovation, grants applied for and rumours of grants, the story of Roberts Park remains one of local people – determined to enjoy the park and providing hard graft to accompany the vision. This uplifting scenario will be celebrated this Easter in an Egg Hunt, organised by the Friends of Roberts Park, with support - and free chocolate eggs – from Bradford Council (so let no-one say the Council never does anything for Saltaire!)
Everyone wishing to take part (and yes, it's absolutely free) should go to the Half Moon Cafe between noon and two on Saturday 15th to pick up their first clues. Refreshments will also be provided by the Friends.
The weekend of April 8th & 9th saw Saltaire Cricket Club and its supporters hard at work for the second year on Cricketforce; continuing to improve the facilities by which the club's presence is a blessing extended to all. The club's efforts in the first division of the Bradford Cricket League provide an excuse for those who still need one to enjoy weekends in the park; made yet more pleasurable this season by the comforts of the Half Moon Cafe.
Also continuing the optimistic theme towards the summer, the SALTAIRE BANDSTAND project (first announced in our January issue this year) already has a lot to offer: Don't miss your May Sentinel for a full programme of events.