Village Website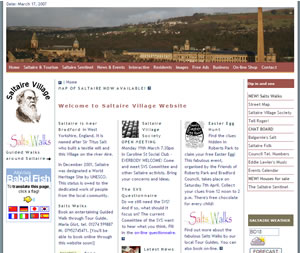 Features include: Saltaire Shopping, Roger Clarke's tourist tips, FREE Classified Ads, Interactive Chat Board and Links to other imporant sites of local interest. There is also an Events Calendar. "You are welcome to post things in the calendar yourself. You will need to join the Forum to do this - it's just a simple email which allows you to log on." – Pamela Reynolds.
As the contents of this newspaper appear on the Saltaire Village Website at the discretion of Pamela Reynolds, who designed and maintains the site, an agreement has now been reached whereby all items submitted to the website will be deemed equally accessible to the newspaper without further permission. It is hoped that this will both facilitate and encourage easier and wider promotion of local events and other initiatives. Contributors should be aware, however, that such dual publicity is not automatic. If you particularly wish – or do NOT wish - your item to appear in the paper and/or on the site, please make this clear.
The site also carries numerous photographs, many of which supplement Sentinel stories.