ALPACA NECKPIECE IS WINNING FAVOURITE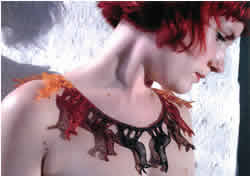 Blanka Sperkova from the Czech Republic was the clear winner of the 'Mill in Miniature' competition, which celebrated ten successful years of the Kath Libbert Jewellery Gallery on the second floor of the famous building.
Fifteen percent of the five hundred people who took part in the public vote chose her amazing technicolour finger knitted 'Alpaca' neckpiece.
A distinguished panel of judges, including renowned artist Simon Palmer, had already reached the same decision and awarded Blanca the £500 first prize. In addition, she has received a commission from Maggie Silver to create a special piece as part of the Mill's anniversary celebrations later this year.
Two other entrants highly commended by the judges were Lynne Kirstin Murray, from Scotland, for her 'Woollen Nebula' neckpiece and Marlene McKibbin (London/Ireland) for her steel 'Dolly Roller' necklace. Voters gave 2nd place to an architectural silver and enamel 'Salts Windows' necklace by Sara Tunstall, and 3rd place to Joanne Mckay Grana (Peru), for her woven iron wire and turquoise necklace. "All the 32 entries were fantastic in their amazingly varied ways and the public loved the exhibition," said Kath.
Thanks to Kath Libbert for the information here.