Bandstand tradition to be revived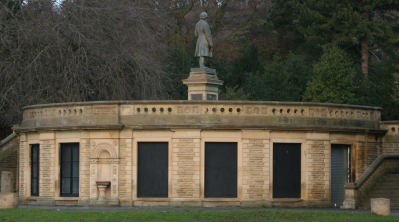 With the renewal and re-opening of the Half Moon Cafe in Roberts Park in 2005, a Steering Group is working hard on using 2006 to make the community aware of its availability and potential as a facility, which could be of use to a variety of groups as well as the visiting public. With this in mind, it is thought useful to give new life to the concept of THE SALTAIRE BANDSTAND, writes Eddie Lawler.
The Group is now hoping for some funding to put on a series of Sunday afternoon concerts at the Half Moon - outdoors is fine - with Cream Teas, this summer. This initial project would involve about six concerts of very varied content. The music can be ANY kind of music including brass band, folk, rock, classical, jazz, buskers, and the programme is likely to be 2.30 to 4.00 p.m. including a 20 minute interval, although it is hoped that the Cafe will be open all afternoon.
The Bandstand can be seen in many old photographs of the park. Its plan is still evident in the tarmac which remains after its removal. No music has been heard here for decades. The concept of THE SALTAIRE BANDSTAND does not demand immediate restoration, but sees the space being used for live music on a Sunday afternoon, thus resurrecting a park tradition.
In case of bad weather, the musicians (if their number is not too large) could play in the Half Moon itself. There might also be some kind of exhibition (about Saltaire, about the Tramway, an art of photographic display) in the Half Moon. There is electricity now available for amplification, and there are probably no decibel issues in this location at this time.
The SALTAIRE BANDSTAND needs at this stage no equipment at all, just musicians and a timetable. But some chairs would be useful, possibly amplification, maybe a small removable stage with a canopy... Musicians can be found who would play for donations (to themselves and/or to the Half Moon). But maybe Council and sponsor support could create a budget for a fee for performers. It would be nice (and appropriate) for events to feature in the Calendar of Summer Events in the Parks.
You can contact the Half Moon Steering Group by way of the Sentinel.
Eddie Lawler