jenny freckles: Saltaire Daily Photo
"A view of Saltaire and beyond...a surprising place...World Heritage Site and my home"
Informative, engaging and with beautiful photographs. Highly recommended.

Blog
A bit about jenny freckles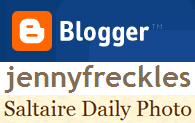 It all started when I went on holiday to Israel and visited the World Heritage Site of Masada, on the shores of the Dead Sea. It's an amazing place, with a fascinating history – a site of immense historical and archaeological importance. As I was exploring, I kept thinking that Saltaire, where I have lived for over ten years, is considered (by those who decide these things) to be, in its own way, a site just as attractive and important as Masada. A World Heritage Site. Wow!
I realised that, though Saltaire was a nice place to live, I really took it for granted. So I came home vowing that I would start to take more interest in my surroundings, find out more about Saltaire's history, use its shops and cafés and visit its attractions – Salts Mill and the church especially – more often than simply when I had visitors.
I'm interested in photography and, at about the same time, I started looking at the wealth of lovely images on the internet, in particular reading 'blogs' like 'Venice Daily Photo' and 'Paris Daily Photo'. I began to think "someone ought to do a 'Saltaire Daily Photo' "…… and then one day I realised that, even if somebody else had had that thought, they didn't appear to have done anything about it ! So maybe it was up to me! I didn't have a clue even how to start a blog, but I decided it would become my challenge for the year: to put a photo of Saltaire, every a day for a year, on the internet.
That was June 2009 and so far I have kept to my vow – with a few excursions 'off- site' into the surrounding locality and occasionally further afield. In doing so, I have made a whole new set of friends among fellow 'bloggers', who take a lively interest in each other's news and photographs. I keep meeting people in the local community too, who tell me they read and enjoy 'Saltaire Daily Photo' regularly, and who encourage me to keep going.
I don't pretend to be an expert photographer – though walking around with my camera at the ready and an inquisitive eye, it's surprising what a lot I've found to record. (I think my photography is getting better with practice!) I've learned a huge amount more than I knew before about Saltaire's fascinating history, and feel much more committed to and involved in this community. I've realised just how active and creative some individuals and local groups are – how they care for and promote Saltaire and its environment and build it up as a great place to live and work, as well as a wonderful destination for tourists from near and far. I do my blog because I enjoy it - but if it also helps other people to appreciate this lovely area too, or even attracts someone to visit it, then perhaps it's worthwhile.
When the year is up and I have achieved the challenge I set myself, I'm not sure what I shall do. Shall I continue? (There are surely only so many photos you can take in a square mile?) Shall I stop altogether? Shall I carry on, but give myself the freedom to 'paint on a wider canvas'? I haven't decided yet. All I know is that Saltaire is a surprising place – and anything can happen!
jennyfreckles
www.saltairedailyphoto.blogspot.com