TOURIST INFO CLOSES
ROGER AND ANNE ARE RETIRING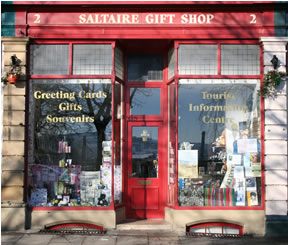 Roger and Anne Heald, who built up the Saltaire Tourist Information and Gift Centre, which they have run for 23 years, have decided to go into retirement and put the property up for sale. It is now on an estate agent's books, with the shop, downstairs flat and upstairs accommodation being sold.
The couple took over Number 2, Victoria Road, which had been empty for two years after being owned by a London property developer, in November 1993. Major refurbishments completed, the Saltaire Card and Gift Centre opened at Easter 1994. After the closure of the library in Victoria Hall, which included information centre among its functions, more people began to use the shop to find out about the area. This prompted Anne to do a Tourist Board course and the shop became a Network TIC. However, in October 2001 Saltaire was de-networked because it was impossible to meet the increasingly stringent criteria without funding.
Still known to us all as "The TIC", the Saltaire Tourist Information and Gift Centre continued to sell local maps, books, cards and gifts, and organise the popular guided walks. Most of all, Roger and Anne's shop became a welcoming feature of the Village, where locals and visitors alike came to share a natter. Saltaire won't be the same without them.
Roger Clarke