Roger Clarke's Saltaire people SPECIAL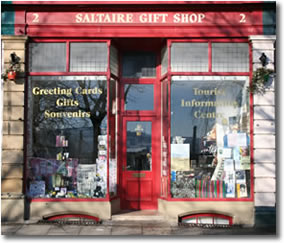 In many ways, returning to Saltaire to take over No. 2 Victoria Road was like coming home for Anne Heald, who was born in Baildon and attended Woodbottom First and Salt Grammar Schools. Her career in nursing began in Leeds, where she trained at St James' and Seacroft Hospitals. She met Roger at the famous Mecca ballroom and they married in 1970. His background was in accountancy and he managed a number of small businesses before becoming self-employed in 1981 to join the wholesale greetings card industry.
The Saltaire Tourist Information and Gift Centre, under the Healds' management, published a guide book, written by local historian Clive Woods, which sold an amazing 10,000 copies, mainly through the shop. Roger and Anne helped to set up the Saltaire Traders Association which, amongst other things, organised Easter Extravaganzas, Victorian Evenings around Christmas, and various promotional events. They have also pressed for improved signage for the Village and were instrumental in persuading Ordnance Survey to put Saltaire on their maps as a named area.
MORE TIME AT HOME FOR SUSAN
The closing of the Tourist Information and Gift Centre will also mean saying goodbye to Susan Jones, who has worked part- time in the shop since 1995. Her ready smile and warm welcome have encouraged visitors and her fund of information about the area has helped countless customers. Susan, who will be very much missed, will now have more time to share with her family, especially her grandchildren.