LIVING ADVENT CALENDAR LIGHTS UP VILLAGE WINDOWS
By Victoria Worsley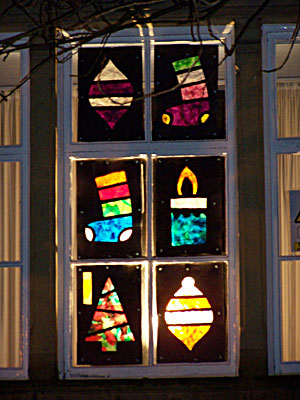 The Living Advent Calendar for Saltaire will open its first ever window on Friday December 1st at the Primary School in Albert Road with a window made by the 5-year-olds in their art class.
Each night another window will open and light-up and you will be able to walk around the Village to see each of these (see the list below for the date and address of the openings in the build-up to Christmas). Victoria Hall and Shipley College have joined forces for the 15th and a window created by their design students will coincide with the celebrations of the extensive refurbishment of Victoria Hall. The spectacle will end with a window at Salts Mill.
A map will be available from the tourist office and other venues around Saltaire and you can also follow the progression of the windows each night on this website at www.saltairevillage.info/advent06/index.html
We would like to thank all of those who have enthusiastically participated and helped with special thanks to Claire Thornton, Claire Townsend, Maggie Silver, and Saviour Pirotta for all his work on the leaflets and Pamela Reynolds for making the website possible. The website has been designed by Chrys of our sister project in Hull and you can also track the Hull's Avenues sixth year of doing their advent through the links on our webpage.
1st Saltaire Primary School, Albert Road
2nd 6 Albert Terrace
3rd Magic Number 3, 3 Victoria Road
4th 67 Victoria Road
5th 76 Victoria Road
6th 6 Harold Place
7th 52 Titus Street
8th 5 George Street
9th 5 Baker Street
10th 28 Constance Street
11th 8 Shirley Street
12th 47 Caroline Street

13th 47 Titus Street
14th 50 Caroline Street
15th The Victoria Hall & Shipley College, Victoria Road
16th 18 Victoria Road
17th 7 Shirley Street
18th Titus Hospital, Saltaire Road
19th 68 Victoria Road
20th 20 Constance Street
21st 44 Whitlam Street
22nd 13 Albert Road
23rd 71 Victoria Road
24th Salts Mill, Victoria Road
Happy Christmas from David and Victoria Worsley,
67 Victoria Road, 01274 530410, blue.evanesce@blueyonder.co.uk.