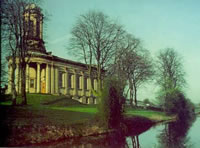 Eric Petrossian brings his one man gospel presentation, in which he plays over thirty parts, to Saltaire at the invitation of the local United Reformed Church. (Where you can see the bust referred to in our lead story.)
Eric, who graduated with honours as an actor and also has a successful background in comedy, appearing with the likes of Ricky Gervais, combines his experience with his faith to produce a dramatisation of the gospels that is accessible and entertaining to Christians and non-Christians alike.
Since 2003, he has performed the play at over a hundred churches and a variety of other venues. Other events at the church include light music on the organ at 2.30 on 16th and 17th.
Kingdom Come: The Life of Christ
ALL FOUR GOSPELS,
ONE ACTOR:
ERIC PETROSSIAN
Saltaire United Reformed Church September 13th (7.30 pm).
ADMISSION FREE
Retiring collection