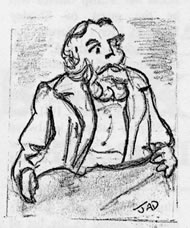 The SALTAIRE BANDSTAND held its second of six summer events on Sunday, June 25th in Roberts Park, reports Eddie Lawler. Guests were the Creek Valley Western Dancers who displayed their skills on the promenade in front of Sir Titus Salt's statue. He looked a little toffee nosed on the affair, but in a rare interview has expressed great pleasure in the fact that his promenade is again being used on Sunday afternoons.
Around a hundred people attended, many joining in the dancing, refreshing themselves in the Half Moon Cafe and enjoying the oil paintings of local artist David Starley, many of which feature Saltaire. The next event, on Sunday, July 7th at 2.30 pm, sees Gypsy Rock Band from Bradford. This very active outfit has, like all our performers this summer, kindly offered to do the gig free of charge. The Half Moon Cafe will be open, as it is every Saturday and Sunday throughout the summer, and an exhibition of airbrush art from Koot will be there for all to see. Come and enjoy!
Note from Webmaster: Click this link to see photos of Creek Valley Western Dancers.