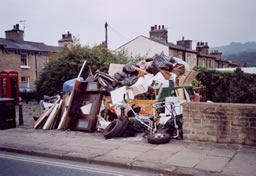 Last month's 'Saltaire Village Clean-Up' was described by Eddie Lawler, whose house in Caroline Street overlooked the siting of a skip, as having gone "grotesquely wrong", resulting in a "public orgy of pollution". Eddie quickly informed the Council's Cleansing Dept. that the skip, which arrived on Saturday, June 24th , "was filled by mid-morning and surrounded by further junk by noon.
Picture shows rubbish before the skip was removed.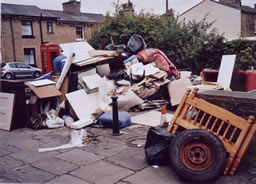 Above all it became, on Sunday afternoon, a playground for unsupervised small kids who might have avalanched themselves. It was prowled and picked at by scavengers of all ages and well after 10.30 on Sunday night a small lorry arrived to load up a few bits." Another local resident described the area as "a fly tippers' dream", and reported "huge white vans depositing sofas by the hour". Things hardly improved when the skip was removed, at 7.15 on Monday morning, leaving, in Eddie's estimation "at least another three skipsworth; presenting a picture a shanty town would be ashamed of."
Picture shows rubbish after the skip was removed.
CLEAN-UP OF CLEAN-UP
Councillor Kevin Warnes (Shipley, Green), who stepped in on the Monday in response to residents' concerns and again on the Tuesday to make sure that the situation was resolved, told the Sentinel:"When I came to see what was going on there was a large quantity of loose litter blowing around and that is unacceptable in any circumstances. These clean-ups need to be planned very carefully in future to avoid even the smallest possibility of confusion, given that the consequences are horrendous."
"This situaton must never be repeated." said Eddie "We started a 'Village Clean-Up' some years ago to try to clear up litter; but this is just an opportunity for quick dumping. Even if skips are supplied in future, they must surely be removed within the day." Councillor Warnes, having ensured that the rubbish was eventually cleared away, concluded: "I hope that there is still sufficient goodwill in the village for us to arrange another clean-up in due course."