Roger Clarke's Saltaire people
This month: Helen Kemp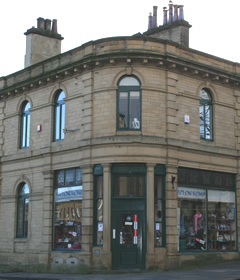 Helen Kemp is well known in Saltaire for her huge contribution to the life of the community.
She came to the Village in 1993 after 12 years teaching pottery (and 8 years teaching calligraphy) at Shipley College. She was looking for a retail outlet, and soon recognised the potential of the corner location of 79, Victoria Road, which for many years had been a gents hairdressers shop. Jonathan Silver had bought the property, and let it to a ladies hairdresser (with sunbeds). The premises had been vacant for about a year before Helen became the tenant. Jonathan Silver had turned down several prospective tenants as not suitable for the Saltaire he wanted to see evolving. This is exactly what Sir Titus did almost 150 years earlier, in order to have shopkeepers of the right calibre for his village.
Helen quickly appreciated that there was space to expand and diversify her stock. In addition to pottery, she began to sell batik clothing, jewellery, and a selection of Mind, Body and Spirit books, plus literature on Green politics and ethical issues. Upstairs she sold soft furnishings, basketwork, and had a gallery for local painters.
In 2001, she bought the property, and began to live in the upstairs rooms. Helen was one of the founder members of the Saltaire Traders Association, along with Anne Heald, Phil Fluke, Maureen and Mervyn Dixon, Clive Woods and others. This group organised and ran events to encourage visitors into the Village. To celebrate World Heritage status, and the Bicentenary of Sir Titus's birth, the Traders and Saltaire Village Society decided to act on Helen's and Eddie Lawler's ideas for a Saltaire Festival. Eddie was the first Artistic Director in 2003, with Helen and her partner dealing with the design and management of advertising for marketing the event, along with 8 other volunteers on the first Festival committee. For Helen, the Festival ethos was "to celebrate the life of the local community and to showcase its talent". Her interest in music and dance, and her contacts in these areas, soon meant that her role expanded. When she became Artistic Director in 2004 and 2005, she had the opportunity to see her vision and her passion for the event become a reality. She wanted, and saw, "an explosion of creativity" from residents, and others around the district.
The sheer time and energy of everyone involved, Helen included, is overwhelmingly impressive. Helen describes it as "a labour of love", with the main aim to make Saltaire citizens proud of the place in which they live. But all this takes a toll on energy levels. Helen has had to put so many of her other interests on the back burner in order to achieve her business and community aims. She's now reaching a time when she'd like to fulfil some of her other dreams. These include several writing projects including a collection of her calligraphic works to date; experimenting with new glazes for her pots; running workshops and classes for pottery (she has a pottery at Heaton) and more calligraphy; and developing the selling potential of attendance at outdoor events throughout the UK. After 12 very happy years in Saltaire, retirement beckons. She's committed to seeing the Festival achieve further success in 2006, but future involvement will depend on many other factors. But you may well still see her at the Otley and Bingley Shows and other venues around the region.
The central position, and proximity of Number 79 to the proposed Heritage Centre planned for the Caroline Street car park in the Airedale Corridor Development Plan (ARUP Report, 2005), should ensure the continuity of retail trading there. The Sentinel will, as ever, keep you up to date with events.