There is an ambiguity about the naming of Titus Street. Is it named after the founder of Saltaire – Titus Salt – or named after his fifth-born son, who was also called Titus? Those who favour the source being Titus Sr. point out that Titus Street runs parallel with Caroline Street, the latter being unambiguously named after his wife, Lady Caroline, so that the two streets for a 'matched pair'. Those who favour Titus Jr. argue that if the son did not have a street named after him then he was the only child or Sir Titus and Lady Caroline not to be honoured in such a way.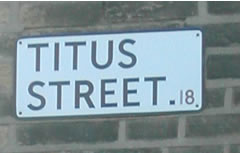 We believe that the street is named after the son, Titus Jr. but are mindful that Saltaire's most reputable historian, the later Jack Reynolds, favoured the alternative interpretation.
Perhaps Sentinel readers have further evidence on the subject?
Titus Jr. was a particularly noted member of the family, working in the family business and being fully engaged in the local affairs of the village, until his untimely death at the age of 44 in 1887. It was Titus Jr. who, together with his wife Catherine (nee Crossley), entertained royalty in the Milner Field home. His remains lie in the family mausoleum.
Whatever the origins of its naming, Titus Street, when first completed, had 61 houses along its length. Today it has several fewer, following the demolition of some of the end houses at the street's junctions with the alleys of the streets linking though to Caroline Street. (The same fate befell similar houses in Caroline Street).