Meeting: Thursday 29 November 2012, 7 - 9pm
"William Fry, from Station Master to Secretary of the Salt Charities"
Plus our usual, festive
Christmas Quiz

Note new venue: Victoria Hall
Fluke Room
Post code for Sat Navs is BD18 3LQ
ALL WELCOME - and it's FREE!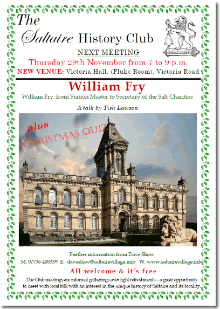 Dear Friends,
Greetings, & firstly a very warm welcome to those new Members of the Club who have signed up recently – it's good to have you join us.
The next meeting of our Club is scheduled for Thursday 29 Nov, using a venue new to the Club – the Fluke Room, Victoria Hall, in Victoria Road. Post code for Sat Navs is BD18 3JS. As usual the meeting will be held 7 – 9 pm. Entry, as always, is free.
[Mouse over poster to enlarge]
Download the poster >
We have a really good programme planned. Well known local historian Tish Lawson will be speaking on "William Fry, from Station Master to Secretary of the Salt Charities". Fry crops up in various roles in the early years of Saltaire's development, so we'll all be learning something new about the village's early days.
In addition to Tish's presentation there'll be our now traditional Christmas Quiz and refreshments. Dust off your memory cells & be prepared.…!
If you live locally you will have probably noticed that the Mill's chimney has been undergoing repair. Ever wondered what the village must look like from the chimney's top? We'll be displaying a series of photos taken from the top, courtesy of local photographer Paul Taylor- they're great shots.
What better way to spend a winter's evening than to come along on Thursday – look forward to seeing all who can make it!
Best wishes
Dave (Shaw), for Saltaire History Club