SALTAIRE WURLITZER AT THE VICTORIA HALL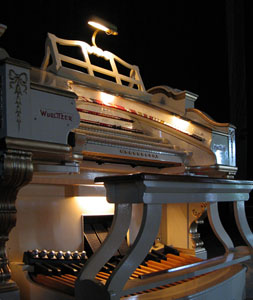 This Mighty Wurlitzer, owned and maintained by The Cinema Organ Society, is housed in the main hall of the Victoria Hall.
In addition to a programme of regular monthly events, the Wurlitzer can be hired for private functions and is also played several times a month by members of the society.
Why not call in at the Hall and see if you can catch the Wurlitzer in action – you might even see the console rise up to the stage on its lift! Small groups can be given a tour down in the bowels of the organ to view all the pipes, drums, cymbals and the mechanisms that make up the instrument.
For further information and our current events list please look at our website www.cosnorth.co.uk or contact us via email on saltairewurlitzer@tiscali.co.uk to see if your visit coincides with one of our members days.