Stable Cottage, Bingley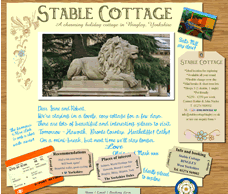 Single storey cottage (1 double + 1 single bedroom) situated in tranquil location close to Prince of Wales Park. Available all year for business, relocations or a few days break. A short walk away from famous Leeds & Liverpool canal 5 rise staircase lock.
Ideal for walking and cycling. Yorkshire's main attractions are easily accessible. Bingley has a train station which links directly to Saltaire (only 3 minutes away by train, 5 minutes by bike and 10 minutes by car).
Hire rates £250 - £350 per week
For further information and availability contact Kathleen & John Naylor
Tel: 01274 569002
Mobile: 0781 0078012
Email: info@stablecottagebingley.co.uk
Website: www.stablecottagebingley.co.uk