Saltaire Winter Bandstand

Free music concerts every month (on a Sunday) throughout winter at the Caroline Club, Saltaire.
More >
The Aire Valley Singers - CHRISTMAS CAROL


Friday December 14th at 7 30pm,
St Paul's Church, Kirkgate, Shipley.
An evening of festive readings interspersed with carols old and new – and even a touch of Dickens this year. Tickets are £8 (£6 concessions), available from choir members or 01274584787 and include seasonal refreshments. This concert is always well supported so do get your tickets early and join us in carolling our way into Christmas.
Kath Libbert's OUT OF THE BLUE exhibition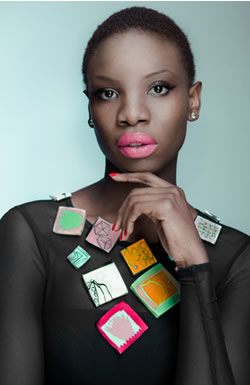 Nine hand picked graduates from the Royal College of Art take part in Kath Libbert's, Out The Blue exhibition.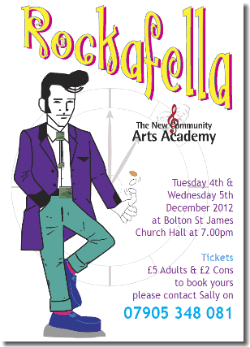 Panto at Bolton St James Church Hall - Rockafella
Tues 4th & Wed 5th Dec 2012.
More >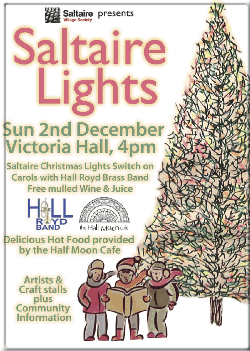 Saltaire Lights: Sunday 2 Dec.
Victoria Hall at 4pm.
Carols with Hall Royd Brass Band. Free mulled wine and juice. Delicious hot food provided by the Half Moon Cafe.
Arts & craft stalls, plus community information.
Download the poster to promote this event>
Quirky music video featuring Saltaire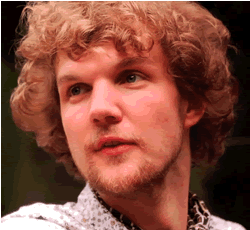 This is brilliant! Music video with 1950s vintage charm. Starring ben boo hoo and Charlotte Armitage.
More >
Telegraph and Argus story on proposed water turbine in Roberts Park
History Club opposes - various comments for and against.
More>
Saltaire Living Advent Calendar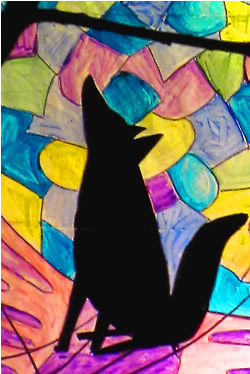 Volunteers needed!
More>

Venue: Victoria Hall, Saltaire
Saturday 1st December 2012 at 12pm.
Everyone is welcome.
More>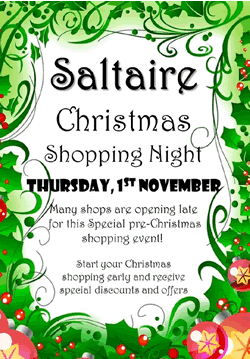 Many Saltaire shops open late on 1st November. Start your Xmas shopping early and receive special discounts and offers.
More>
Saltaire History Club opposed to proposed water turbine in Roberts Park
Saltaire History Club has declared its opposition to Bradford Council's proposed water turbine in Roberts Park. At a meeting of the Club on 18 Oct, members voted overwhelmingly to oppose the scheme.
More>
News from Victoria Hall

England from a Dutch man's POV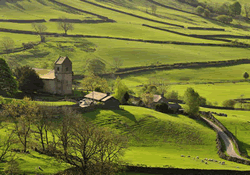 There is a new website which features the North of England, constructed by UK fan, Michel who lives in the Netherlands.

More >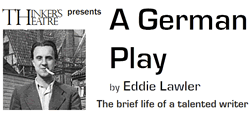 "A German Play" written by local writer and musician,
Eddie Lawler
, will be premiered at Bradford Cathedral on Friday October 19. The play tells the story of the German actor and writer, Wolfgang Borchert, (1921 - 47) who rebelled against the Hitler Youth, was convicted of making "statements endangering the country", escaped on his way to a prisoner of war camp and walked the 370 home to Hamburg. Shortly before his premature death he wrote the manifesto against war Dann gibt es nur eins! (Then there is only one thing!)
Dates and how to book:
Bradford Cathedral
Performances Friday 19 Sept at 7.30
Saturday 20 Sept at 2.30 at 7.30pm
Tel. 01274 777720 or Cathedral Office
Seven Arts, Chapel Allerton, Leeds Peformances Sat/Sun 27/28 October at 7.30pm
Tel. 0113 2626777
Tickets £8/6
Please note: Halifax performances cancelled, with apologies:
Empty Space Theatre,
Calderdale college, Halifax
Performances Tues/Wed 23/24 Sept at 7.30pm - CANCELLED
Tel. 01422 247301
Publicise this event:
Download the poster>
Celebrating our local businesses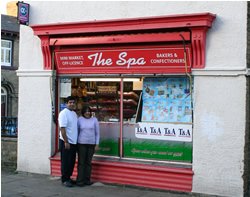 Our wonderful grocer is on Titus Street. Meet Mr & Mrs Lad and have a trip round their lovely store, The Spa of Saltaire.
More>
The 10th Saltaire Festival - a tremendous success!

A huge thank you from all of us who had a wonderful time at the Saltaire Festival - thank you so much for all the hard work of the organisers and volunteers and the participants. Brilliant job!

Multi-Story Water
Promenade theatre along the River Aire and Leeds-Liverpool Canal. The production will be performed on Friday 21, Saturday 22 and Sunday 23 September.
More>
Local lads run for Cancer Research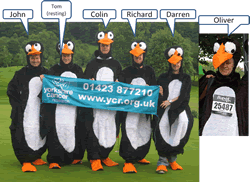 John Bretherick, of Salts Sports in Saltaire, and his penguin buddies are asking you to dig deep for 'Team Penguin' who are running in aid of Yorkshire Cancer Research.
Saltaire Shop History Trail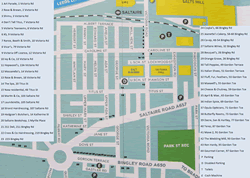 Find out more about Saltaire's fascinating history by going on the Saltaire Shop Trail.
More info and map>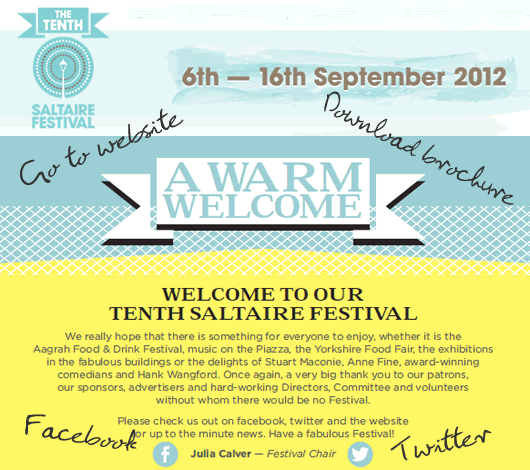 Things are flourishing in the jewellery garden ….giant porcelain cabbage necklaces, cut glass 'Wine Leaf' brooches, overblown bright blue enamel blossom jewels… 100 international jewellers involved with the gallery over the last sixteen years have been invited to each enter an exuberant celebratory ring into a flamboyant competition called
FlourishRing
! Follow Kath Libbert Jewellery on
Facebook.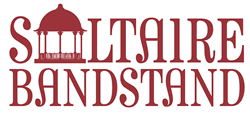 Full programme of FREE concerts in Roberts Park from May to September. There are Curry and Jazz nights too. Spread the word! Publicise this event - download and display the poster.

More>
Spoof stamps of Saltaire, notelets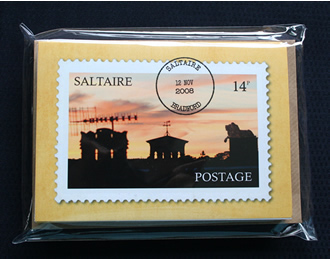 New notelets out now - 8 per packet, all different. Comes in a pretty package with 8 craft envelopes. Only £4.99. You can buy online, or if you're local, just email the webmaster. Go to the shop>
John Bretherick carries the Olympic Flame


John Bretherick of Salts Tennis Club in Saltaire will be carrying the Olympic Flame on the last leg in Wetherby at approximately 11.50am on Boston Road, starting near Lodge lane and finishing at the Wetherby Road roundabout. More>

Virtual Exploration of Saltaire
If you can't get here in person, you can be a virtual explorer of the Saltaire with Google's new World Wonders Project.

Saltaire Village Society invites you to its AGM, Tues 19th June, 7pm, at the Half Moon Café, followed by Craig McHugh's talk.
More>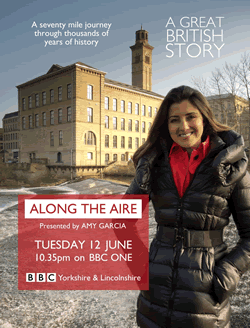 A Great British Story


Don't miss this TV programme about a 70 mile journey through thousands of years of history. It features local people talking about Saltaire. BBC 1 - Tues 12 June 2012 at 10.35pm.
The Big Saltaire Knit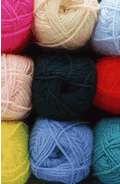 The latest campaign is to encourage all you knitters out there to knit a square for Saltaire!

More>

The Get Fit Club is not a military based boot camp but is a friendly, results focussed environment where people can lose weight, socialise and have fun.
More>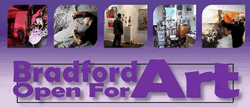 Look out for an event on 2 - 5 June featuring local artist David Starley and others.
More>
Hattie's done it again!


Hattie Townsend's latest dramatic production "After the War was Over" is set in the North Shelter in Roberts Park, and was intended top be performed there, in the open. More>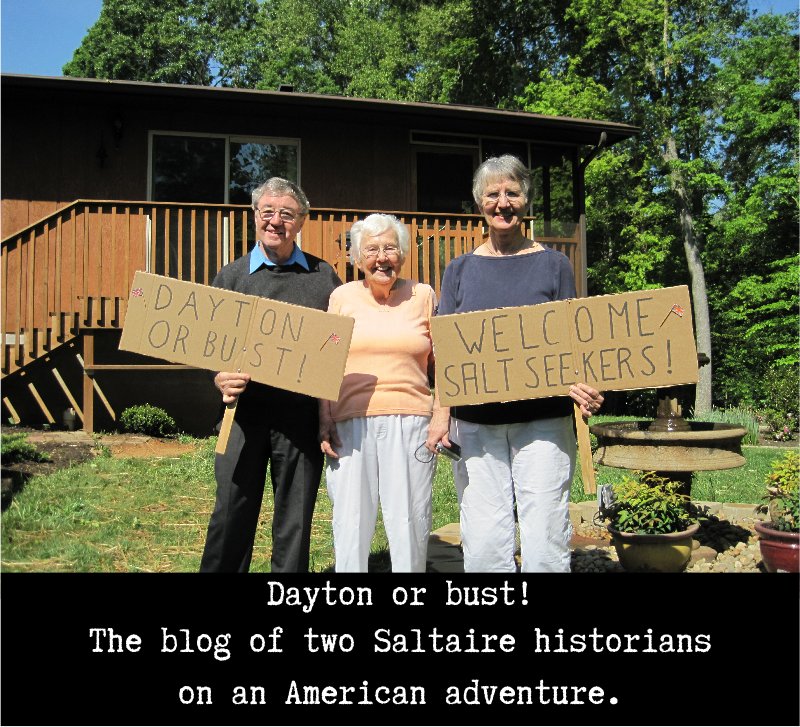 The 36th Day of Dance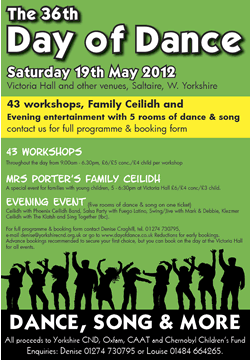 Full programme and
booking form >
Saltaire Art Online - Local artists take note!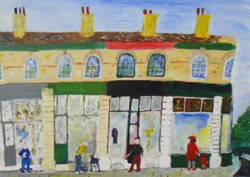 SaltaireArt.com is an on-line gallery that seeks to complement the art gallerys in Saltaire by bringing together on-line the work of many Saltaire artists to showcase the talent and quality of art in the Saltaire area.
More >
World Heritage Weekend - Full programme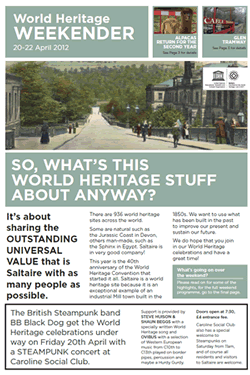 At-a-glance
timetable and booklet to download >
After The War Was Over - a play by Hattie Townsend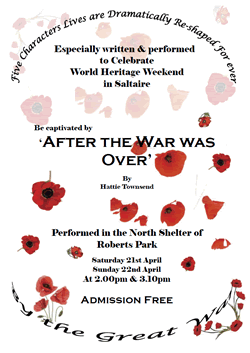 Mouse over to enlarge
Bradford Model Railway Exhibition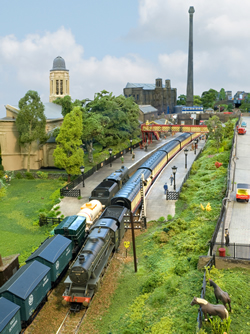 31 March to 1st April.
Model of Saltaire >
Steampunk in Saltaire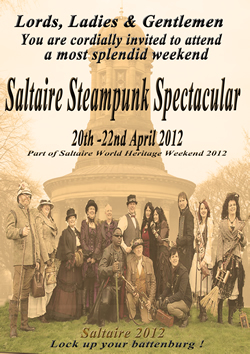 More about Steampunk >
An Agreeable Good Friday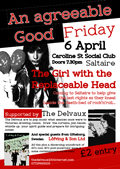 The Caroline Club on Caroline Street, Saltaire, welcomes everyone. Keep up to date with the new and exciting programme of events and entertainment via their new
website.
Salt and Light Exhibition at the Half Moon Café

Throughout February and March, the Half Moon Cafe in Roberts Park is graced with the photographs of Saltaire resident, Andrée Freeman.
More>
Saltaire Local Produce Market
Caroline Street Car Park , Victoria Road, third Saturday of every month, 9am – 3pm (starts February). Produce includes home baking, delicious cheeses and dairy produce, vegetables and meats.Next Market - 18th February 2012. Co-incides with Saltaire Handmade Arts & Crafts held in Caroline Club, Caroline St. Enquiries for Market: (01274) 438849 / Arts & Craft Market (01274) 588750.
Saltaire WI host Tim & Joe show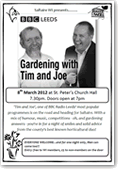 'Tim and Joe', one of BBC Radio Leeds' most popular programmes is on the road and heading for Saltaire on 8 March. With a mix of humour, music, competitions - oh, and gardening answers - you're in for a night of smiles and solid advice from the county's best known horticultural duo!
More >
West Yorkshire Organic Group Potato Day

Saturday the 18th February 2012, Exhibition Hall, Exhibition Rd, Saltaire, BD18 3JW. Doors open 10am - 2pm, admission free. More than three dozen varieties on offer with a good selection of heritage and specialist varieties not readily available in the shops. All tubers 15p each. Stalls selling organic compost and organic seeds. Info
http://wyog.org
Bradford Archives
The West Yorkshire Archive Service at Bradford Central Library, Prince's Way, BD1 1NN, is now open on Tuesdays, Thursday and Friday, from 9.30 to 5.00pm. The WYAS is a member of the County Archive Research Network (CARN) readers' ticket scheme. You will need to sign the Visitors Book and bring your CARN reader's ticket with you when you visit. If you do not have a ticket please bring official proof of ID.
More info>
Saltaire Handmade Arts & Crafts

This event takes place on the 3rd Saturday of the month (same day as the Saltaire Farmers Market). Venue: Caroline Social Club. Around 20-25 stalls will be displaying handmade arts and crafts and the event opens from 10 am up until 3pm. The 2012 dates for your diary are as follows, 21st Jan, 18th Feb, 17th March, 21st Apr, 19th May, 16th June, 21st July, 18th August, 15th Sept, 20th Oct, 17th Nov, 15th Dec. Any enquiries on this please call Dave Glenister on 01274 588750 or mobile 07764 746634.
enquiries@htgevents.com
Eddie Lawler's requiem to Harry Ramsden's

One of Yorkshire's best known landmarks, Harry Ramsden's is now empty and up for sale. Saltaire poet, playwright and musician, Eddie Lawler has written a requiem for the famous Yorkshire fish and chip restaurant, which was recorded on the 3 January, 2012 and performed on BBC TV's Look North. Song lyrics and MP3 online >
Shabby Tiger - hats for girls

There's a wonderful range of children's hats for girls made by local designer, Edwina Hatfield. Edwina, whose business is
shabbytiger.co.uk,
sends her gorgeous hats all around the world.
More>
Joan Smith, Pastel Artist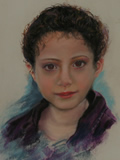 Local professional pastel artist, Joan Smith, works from your favourite photos to give you a vignette that you will cherish for life.
More>

News from the newly named Caroline Social Club. Membership, website, news and events. Keep in touch and get involved!
More>
Dan Bailey's extraordinary images of Saltaire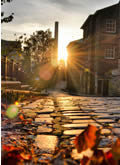 Dan Bailey was born in Saltaire and moved to London at the age of 16. Now he's back and living in the village. Dan is a skilled and creative photographer, who captures Saltaire through fresh eyes. His wonderful pictures are featured on this website, and his work can be purchased from Art Gallery and Coffee Shop,
Massarella's
on Victoria Road.
More >
Cocorico, Jazz at the Winter Bandstand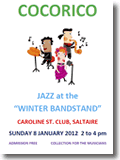 The Saltaire Bandstand continues its tradition throughout the winter with music at Caroline Social Club. The next free concert is on Sunday 8th January from 2 - 4 pm. All welcome.
See programme >
BBC 2's Flog It!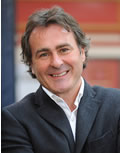 The Flog It team visited Saltaire in August and the resulting programme will be screened on Monday 2 Jan, at 15.45. Expectations are running high with experts David Barby who finds a massive Moorcroft vase and Michael Baggot comes across an equally oversize silver knife and fork.
Another year for the Saltaire Village website
Thanks to everyone who has visited and contributed to the website this year - we've had a lot of traffic. The Admin Team (Roger Clarke, Julie Woodward, Dave Shaw, David King, Ian Watson, Tish Lawson and Pamela Reynolds) have put a lot of effort into answering emails from around the world. Interesting connections have been made for the History Club and we keep in touch with Craig McHugh, Saltaire's World Heritage Officer. It's an informal structure, but it works well and those helping out have done the website proud. Many thanks and Happy New Year to all.
Salts Pots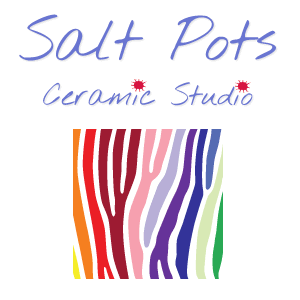 Salts Pots is open on 3 January and for everyone who comes in to paint a pot throughout January there's a 10% discount off any pottery painted to anyone who mentions the Saltaire Village website. Salt Pots is a paint your own pottery studio located on the First Floor of the Butterfly Rooms, Bingley Road. We specialise in pottery painting parties for all ages.
More >
Promoting local artists and photographers

The images on the zone headers (Saltaire, News, Images, Residents, Business) will periodically change to showcase images of Saltaire and let you know a little about the artist/photographer. Click on the photographers name for more info. If you would like your images to feature on this site, please get in touch with the
Webmaster.