Salts Pots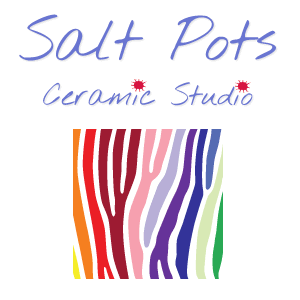 Salts Pots is open on 3 January and for everyone who comes in to paint a pot throughout January there's a 10% discount off any pottery painted to anyone who mentions the Saltaire Village website. Salt Pots is a paint your own pottery studio located on the First Floor of the Butterfly Rooms, Bingley Road. We specialise in pottery painting parties for all ages.
More >
Promoting local artists and photographers

The images on the zone headers (Saltaire, News, Images, Residents, Business) will periodically change to showcase images of Saltaire and let you know a little about the artist/photographer. Click on the photographers name for more info. If you would like your images to feature on this site, please get in touch with the
Webmaster.
Follow the Saltaire Living Advent Calendar on this website

The Living Advent calendar is an annual event. Each evening from the 1st to Christmas, a Village window will light up. The leaflet showing the map of the Advent windows can be downloaded here. There's also a list of Saltaire's festive events throughout December, including such delights as the Torchlight Carols in Roberts Park on the
13th Dec at 6.30pm
List of events >
Living Advent Calendar >
Saltaire Bandstand Christmas Concert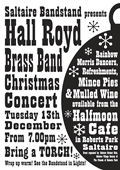 A reminder that on Tuesday 13th December from 7.00pm there's a Christmas concert in Roberts Park, organised by Saltaire Bandstand.
More >
New Kath Libbert exhibition: Rust, Dust & Belly Button Fluff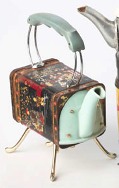 This exciting exhibition brings together the work of ten new graduates who find beauty in things brushed aside, creating jewellery that is in turn delicate, dramatic and distinctive.
More>
Saltaire's Brand New Women's Institute


One dark, wintery evening a group of women got together to learn to knit, eat pizza, drink wine and have a chat. Someone suggested starting a WI, everyone laughed then it went quiet while we all pondered this suggestion ... and here we are!
More >
Saltaire Village Society presents: Saltaire Lights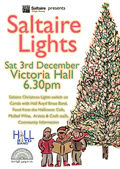 The lights on the Saltaire Christmas tree, situated outside Victoria Hall will be switched on, on
Saturday 3rd December
at 6.30pm. There will be community info and gift stalls, music by the Hall Royd Band, mulled wine & food provided by the Half Moon Cafe staff.
Download the poster >
BBC's Original Features

Would you like your home to be on TV? Nick Knowles is looking for people who are putting the Original Features back into their homes. Do you want to delve into your house's past and discover the history behind its walls? Nick and his team want to investigate the social history of your home and hope to give you some inspiration.
More>
Titus Salt School: Community Art Project - the next steps...

We are thrilled with the interest in this exciting community art project. The launch meeting on 2nd November went really well: fuelled by coffee and biscuits and Tom's inspirational images the ideas started to flow.
More>
Cabaret Saltaire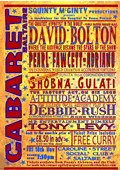 Squinty McGinty Productions presents a fundraiser for
the Hospital to Home project: Cabaret Saltaire
Friday 18th November at 7.30 pm at Caroline Steet Social Club.
More>
Events and Regular Classes at Victoria Hall

Download the list of Victoria Hall's forthcoming events and regular weekly classes.
Events>
Regular classes>
Metal theft in Saltaire
Given the problems with metal theft we have experienced in Saltaire, please sign the online petition to the government requesting that scrap metal transactions should no longer be made in cash. The petition is advocated by a coalition of heritage organisations and has been suggested for inclusion on the website by Craig McHugh, Saltaire's World Heritage Officer.
Petition link >
Reindeer Stampede in Roberts Park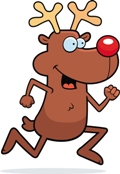 On Sunday 11 December 2011 at 10.00 a.m. there will be a 5km festive fun run starting and finishing in Roberts Park, Saltaire. Run as Rudolph and raise funds for the 456,000 people living with epilepsy in the UK. Download the entry form from this website.
More>
The Saltaire Winter Bandstand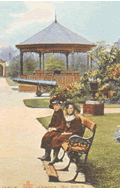 Horray! There will be music through the winter via a series of FREE concerts, courtesy of the Saltaire Bandstand and hosted by Caroline Street Social Club.
More>
Living Advent Calendar - can YOU help?

The Saltaire Inspired team are now making plans for December's living Advent calendar when a series of 24 decorated windows are lit up around the village. Would you like to be involved?
More >
Saltaire Connected!

Saltaire Village Society and Caroline St Social Club invite you to SALTAIRE CONNECTED at Caroline St Social Club on Tues 1st November 2011 from 7pm. It's an opportunity for you to hear about and talk to the people who run groups and events in and around Saltaire.
More >
Titus Salt School needs YOU!


We want members of the local community to participate in our exciting Community Art Project. Find out more at our Open Forum on Wednesday 2 November at 18.30pm.
More >
NEW! Saltaire Handmade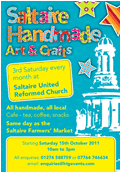 From Saturday 15th October at Saltaire United Reformed Church we'll be launching a new monthly event 'Saltaire Handmade' - an art and craft event featuring local artists...
More>
The Tramshed - A series of Dinner and Tribute Evenings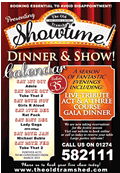 Don't miss the fabulous Dinner and Tribute evenings hosted by The Tramshed in Saltaire. The next one is on the 1st October - a tribute to Adele.
More >
Salt Pots comes to Saltaire

Salt Pots Ceramic Studio is a pottery painting studio coming soon to Saltaire. We specialise in pottery painting parties for all ages, unique gifts hand painted by you and commissions.
More >
25 Trees and Other Pictures by David Hockney

Three new 27 foot long pictures by David Hockney will be unveiled at Salts Mill, Saltaire. The pictures, of 25 trees on a Bridlington street at three different times of year, are displayed alongside projections of Hockney's iPhone and iPad art, and some recent portraits and landscapes.

More >
Half Moon Diners Club

The popular Diners' Club at the Half Moon Cafe will begin again at the end of September. The candle lit, three course menu is £22.95. Diners' Club will be held once a month on the following Friday evenings: 30th September, 28th October, 25th November, 16th December (Christmas Special), 28th January, 25th February and 27th March. Pre-booking is essential and guests are asked to be seated by 7.30pm. To book contact James Spencer on
bookings@halfmooncafe.co.uk

Free Archive Footage of Saltaire during Festival
The Yorkshire Film Archive has searched their vaults to bring us four unique films featuring Saltaire from the 1910s to the 1980s. The special archive footage to be screened at the festival includes early film of the horses at work clearing the snow from the streets of Bradford.
For more information, visit the
Saltaire Festival website >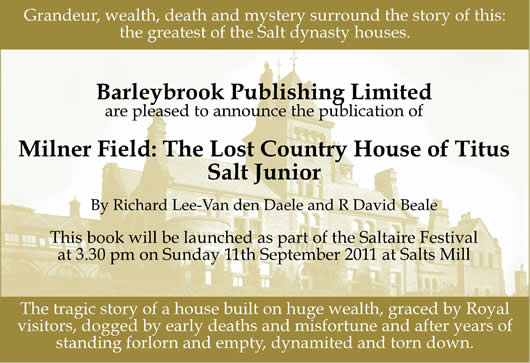 Early Music Concerts at the Saltaire Festival

This year's Saltaire Festival features 2 Early Music concerts and the opportunity for visitors to see and hear these unusual instruments played by leading musicians. On Saturday 10 September the York Waits will perform. Taking their name from the ancient city band of York, the earliest evidence for which we find in 14th century records. Before they turned to music full time the waits had been night watchmen and, although their guard duties diminished, they continued to keep the night watches... More >
Canal cruises during Saltaire Festival

Airedale Cruising and Saltaire Festival are again pleased to include Skippered Day Cruises aboard narrowboat Lizzie-Jean as part of the 2011 Saltaire Festival...
More >
Last Saltaire Bandstand evening event of the summer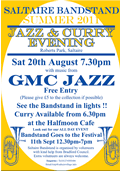 Roberts Park, Saltaire. Saturday 20 August at 7.30pm. Free Entry. See the bandstand in lights! Curry served from Half Moon Cafe from 6.30 pm.
Download poster>
BBC2's Flog It! at Victoria Hall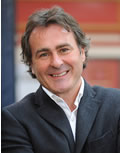 BBC2's antiques programme,
Flog It!
presented by Paul Martin, is coming to Victoria Hall on Thursday 4th August from 9:30am – 4:00pm.
More >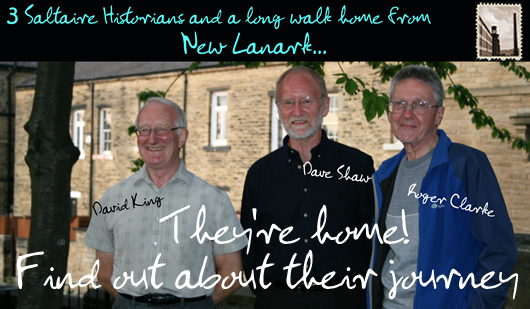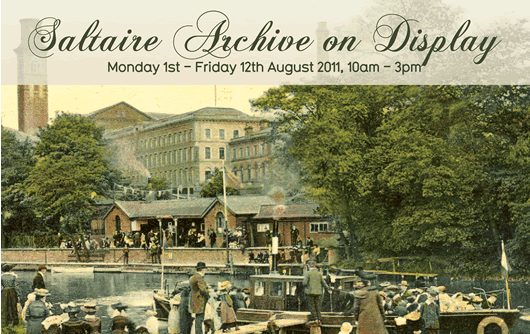 Chez Shamwari - Saltaire's Secret Tea Room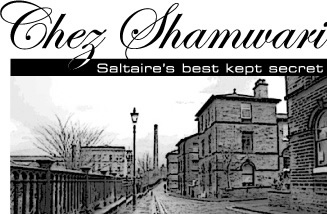 Saltaire now has its first and very own 'secret' tea room in Chez Shamwari, serving delicious lunches and afternoon teas of exceptional quality and value in the cosy and elegant setting of a Grade II listed house in Saltaire Village. More >
Matters of Life and Death

Kath Libbert's dramatic new jewellery exhibition, Matters of Life and Death, begins on 5 July and runs to 25 September.
More >
Real Ale Beer Club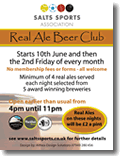 On the back of the Salts Sports' recent beer festival, a new beer club, open to all, is starting on 10th June and will continue on the 2nd Friday of every month.
More >
Saltaire Bandstand - programme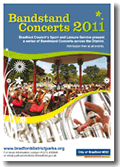 Bradford Council's Sport and Leisure Service present a series of Bandstand Concerts and Curry Nights with free entertainment. The programme starts in May.
Programme >
Threads Orchestra - June Tour

In these gloomy days of cuts in the arts here is some good news for the emerging Yorkshire based Threads Orchestra. Having just received an award from the PRS for Music Foundation, they will be touring the region in June to promote their debut album..
More >
Rawfest comes to Victoria Hall in July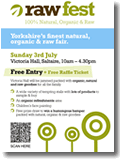 On the 3rd July, Victoria Hall in Saltaire will be packed with organic,natural and raw goodies for all of the family. "Rawfest" is a celebration of natural, healthy products and lifestyles...
More >
Music from Victoria Hall


Watch the
YouTube film
of
Jonathan Scott
playing Scherzo Op.31 in d minor (1871) in Victoria Hall, on a harmonium by Victor Mustel 1880. The harmonium is from the
Harmonium and Reed Organ Museum
housed in Victoria Hall Saltaire. The collection is owned by Pam and Phil Fluke.
Tennis Open Day, 5 June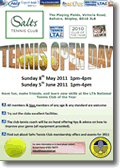 Calling all budding tennis players. Salts tennis club who are championing 'affordable tennis for all', in the local schools and parks, are holding their second club open day this Sunday (5th June) from 1 to 4pm at the clubs courts at Salts Sports Association...
More >
S
altaire Arts Trail, 28 - 30 May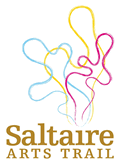 During the late May bank holiday weekend, the UNESCO World Heritage village of Saltaire hosts the 5th Saltaire Arts Trail. Residents of the village's Grade II listed houses open their kitchens, living rooms, hallways and bedrooms to become unique...
More>
Beer Festival, 28 - 29th May, 2011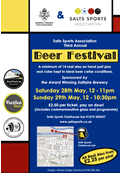 Salts Sports Association is hosting its third annual Beer Festival sponsored by the award winning Saltaire Brewery. It takes place on 28th and 29th May from 12 noon in Salts Sports Clubhouse bar. Pay on the door.
Download the poster.
34th Day of Dance - Sat 21 May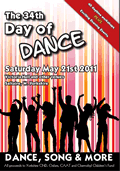 40 daytime workshops and exciting evening events. All proceeds to Yorkshire CND, Oxfam, CAAT, and Chernobyl Children's Fund. Download the

programme and booking form >
Saltaire Decorative & Fine Arts Society


The SDFA presents monthly lectures on a variety of historic and cultural subjects, including the work of artists, craftsmen and architecture. Visitors are welcome to sample the lectures. Details of May to July online.
More>
Magic Number Three - Open!

Magic Number Three, the ethical clothing boutique at No.2 Victoria Road in Saltaire Village, has opened doors again. 'We had thought to be moving premises' says owner-manager Georgia Mack 'but we've decided that Saltaire is a good place to be based...''
More >
Alternative Wedding Show

The 10th Annual Alternative Wedding Show 2011,
runs to 3rd May at Kath Libbert Jewellery, Salts Mill.
More >
Dress Rehearsal: The first exhibition of the Yorkshire Fashion Archive
Runs from 16th April to 15th May 2011
Mon-Fri 10am-5.30pm & Sat-Sun 10am-6pm, and admission is free.
More>
International World Heritage Celebrations, Saltaire
Friday 15th to Monday 18th April 2011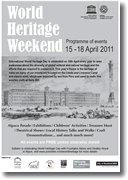 The International Day for Monuments and Sites (informally known as the World Heritage Day) was created on 18th April, 1982, by ICOMOS and later approved by UNESCO in 1983. The day celebrates the diversity of world heritage and the efforts that are required to protect and conserve it, as well as to draw attention to its vulnerability. This is the first time that Saltaire has celebrated its WH status and events will take place from Friday 15th to Monday 18th April 2011...
More info >
Download the programme >
Congratulations to The Saltaire Sentinel, now 100 issues old (April 11)
The Saltaire Village website is proud to host the 100th issue of The Saltaire Sentinel which was started in January 2003 by James Duncan. James, who lives locally, was a resident on Victoria Road, with a view of Vigilance, one of the lion sculptures by Thomas Milne. An idea was borne, the lion was inspiration for the Sentinel logo, and more than eight years later, The Saltaire Sentinel is an established feature of Village life. The Sentinel was published on the Saltaire Village website from January 2006. Back issues will be scanned and added to the archive, until there is a full set. To begin with, and to commemorate the 100th issue, the very first issue of The Saltaire Sentinel is now available on the website. (Click on the image to download).
To this: Issue 100, April 2011

From this: Issue 1, January 2003
Welcome aboard, the SVS and Saltaire Learning

The SV website is pleased to support the Saltaire Village Society and the new group, Saltaire Learning, which creates and promotes learning resources about Saltaire. Downloadable documents are now online, including the very useful Sustainability Guide for Saltaire homes. (Acrobat file)
Saltaire edition of the Antiques Road Show

The Saltaire editions of the BBC's Antiques Roadshow are now due to transmit on 13th March and 20th March. (We have been warned that the schedule may change. We'll try to keep you posted.) More >
Half Moon Diners' Club - March

The Half Moon Café can be found in the beautiful Roberts Park in Saltaire. The café runs a Diners' Club and offers a wonderful menu. The next event is on Friday 25th March 2011 at 7.30pm. See the menu and book via email or phone. More >
Saltaire Sentinel, 100 editions next month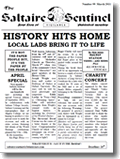 The March edition of The Saltaire Sentinel is now on-line. The Sentinel was created and is edited by James Duncan, and in April will celebrate its 100th edition.
Read The Sentinel now>
Saltaire Vintage Home and Fashion Fair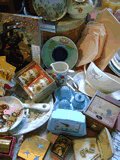 Saturday 5 March from 9.30am - 4pm
Victoria Hall. We have 47 stalls of the best and most beautiful, genuine vintage fashion and homewares from the 1920's to the 1980's.
More >
Saltaire Triptych by Tom Woolley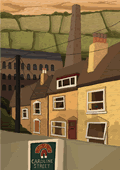 Tom Woolley is a freelance illustrator living in Bradford and has produced a wonderful series of pictures inspired by Saltaire. "The architecture and history of the village is... More>
Half Moon Diners' Club

The Half Moon Café can be found in the beautiful Roberts Park in Saltaire. The café runs a Diners' Club and offers a wonderful menu. The next event is on Friday 25th February 2011 at 7.30pm. (Update - now fully booked - keep your eyes open for the next one!) See the menu and book via email or phone. More >
Valuation day at Salts Mill

Free valuations of David Hockney paintings, prints & related objects. Also: antique jewellery, silver, ceramics, paintings, furniture, clocks & works of art. Saturday 19 February, 11am to 4pm at Salts Mill. More>
Run in Baildon - Absolute Beginners Club

This is the best time of year to start or restart your running - but often the hardest part of all is knowing how to get started, and joining a running club can be a daunting prospect for many. This is why we have a group aimed specifically at the complete beginner...
More >
Still time to see Jack and the Beanstalk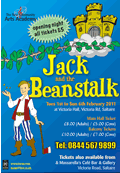 From Tuesday 1st February to Sunday 6th February, Jack and the Beanstalk will be performed by The New Community Arts Academy. It will the the TNCAA's 3rd year at Victoria Hall and the company are hoping for a successful run.
More >
BBC's Antiques Roadshow - Saltaire edition to be screened March/April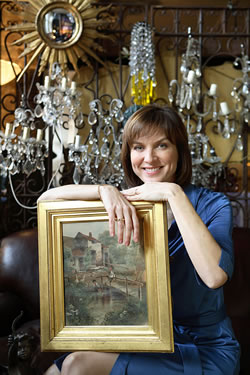 The Saltaire edition of BBC's Antiques Roadshow are due to transmit on 13th March and 20th March (first revision) and we have been warned that the schedule may change. We'll keep you posted.
The filming for the programme took place on Thursday, 29th April, 2010, in the beautiful surroundings of Victoria Hall. The event attracted crowds of people. Julie Woodward who collates the Saltaire Archive, which holds many interesting and valuable Saltaire artefacts, was filmed with some artifacts from the archive. Let's hope it makes the cut! The Saltaire Archive is held in the Resource Centre of Shipley College. The public are invited to view the Archive during the college's summer recess. This website will bring news of that event later on in the year.


David Starley's new art exhibition at the Butterfly Rooms

Local artist, David Starley's forthcoming art exhibition is at the Butterfly Rooms, Saltaire from 17 January to 26 February 2011.
There'll be a selection of David's oil paintings new and old, a chance to see his new studio! If you can get along to the preview on 15 Jan, (7.30-9.30 pm) there's a glass of wine!
David will be exhibiting with Dan Shiel who has some exiting new photographic works and Lis Holt with some spectacular ceramics.
Call 01274 581826 for further information.