News, 2010
NEWS ARCHIVE:
2006 | 2007 | 2008 | 2009 | 2010 | 2011 | 2012 | 2013 | 2014 | 2015 | 2016 | 2017 | 2018
Saltaire Living Advent Calendar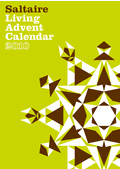 Starting on the 1st December, one window will be revealed each evening. Download the leaflet, or see a list of the addresses.
More >
Brass Band, mince pies, mulled wine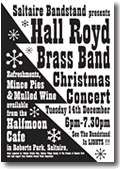 On Tuesday 14th December at 6pm, Hall Royd Brass Band will be tuning up for a festive concert in Roberts Park. Mulled wine and mince pies will be served at the Half Moon Cafe. See the bandstand in lights!
See poster >
The Saltaire History Club
Next meeting with festive cheer, mince pies and history, of course, is on Thursday 9th December, 7pm, at the Saltaire Methodist Church, Saltaire Road. All welcome.
More >
Kath Libbert's Cool Construct exhibition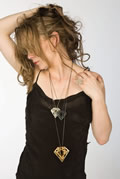 Kath Libbert Jewellery of Saltaire presents a new British graduate exhibition
Cool Construct - New Kids On The Block
, inspired by all things urban and architectural. There will be some amazing pieces in the exhibition - skyscraper rings, graffiti inspired brooches, and oversized geometric diamond necklaces! And as all the jewellers are recent graduates...

More >
Salts Mill, Special Late Night Christmas Opening - 9 Dec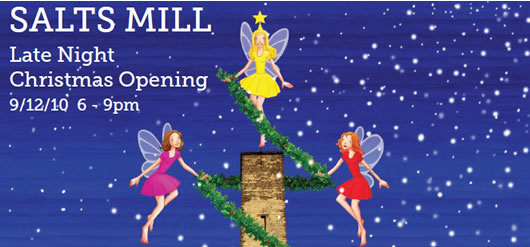 All shops, galleries & restaurants will be open til 9pm. Complimentary drinks and nibbles and some fantastic special offers. At 7:30pm HAMMONDS SALTAIRE BAND will strike up for special festive concert in the 1853 Gallery - entry free. Why not book a candlelit supper?
More info >
Hammonds Saltaire Band
HSB will be playing well known stage and screen classics at Saltaire United Reformed Church on Sat 6 November at 7.30 pm. Adm: £8/£7 concessions To book tickets for a memorable evening contact Valerie Jenkins (01274 542510) or Ted Griffiths (01924 478933).
Local blogger and photographer makes final 100 in T&A Yorkshire Landscapes competition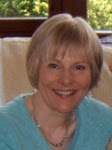 Two photographs of local blogger and photographer, Andree Freeman (known as Jenny Freckles) have been selected for public vote in the 'Yorkshire Landscapes' competition run by the
Telegraph and Argus.
The public vote will hone down a shortlist for a panel of judges who will choose the winner. Votes must be cast by 8th November.
More >
Saltaire Village Society and Caroline Street Social Club
Invite you to SALTAIRE INFORMATION EXCHANGE
at Caroline Street Social Club on Tuesday 19th October from 7pm An opportunity for you to hear about and talk to the people who run groups and events in and around Saltaire. Groups include: Friends of Roberts Park, Saltaire Cricket Club, Half Moon Café, Saltaire History Club, Saltaire Sports and more... Contact Rob Martin for more info.
Saltaire bridge keeps riding ban for cyclists
September 2010: The lift of the cyclist ban across the iron bridge which connects Victoria Road to Roberts Park has been considered and rejected. Councillor Simon Cooke (Con, Bingley Rural) said: "I see no point in risking pedestrians to save some cyclists the two minutes it takes to walk their bikes across the bridge."
Doubts persist about Saltaire Roundabout
September 2010: Despite cutbacks there are plans to draw up a £3.3m traffic light junction to improve the congestion at Saltaire roundabout and ease rat running through Saltaire Village and Nab Wood. A spending of £2m to improve Saltaire and Nab Wood traffic flow has to take place next year or it may be lost to other projects in West Yorkshire, then £1.3 million from the Department for Transport will be spent on the signalled junction.Councillor David Heseltine expressed "grave reservations" about the project's value for money. "I am worried about the actual benefits we are going to get out of this for the costs involved," he said. "We seem to be tinkering around for £3.3million, rather than making significant strides forward."
Another fine Saltaire Festival
The annual 10 day Saltaire Festival came to a close on 19th September 2010. Thousands of visitors flocked to Saltaire, despite changeable weather and all seemed to have enjoyed the many attractions on offer. Thanks go to the Festival organisers whose hard work delivers a wonderful event for the community and visitors alike.
You Tube film on Roberts Park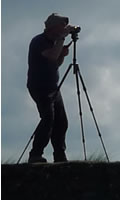 David Weber of Barleybrook films has published a film about the Restoration of Roberts Park on You Tube. Informative and charming, the 10 minute film documents Saltaire's history, the Park's deterioration and its great come back. David is also responsible for the film, The Story of Saltaire. Read his article about the concept and production of the film. (Article located in the History Articles section of the website)
More >
Kath Libbert Jewellery: IntoFlora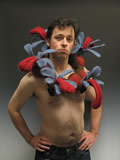 An exhibition of exuberant floral jewellery by eight internationally recognised contemporary jewellers. The exhibition, curated by Kath Libbert, features special pieces created in honour of inspirational famous personalities.
More >
Team Penguin run for Cancer Research

On the 19th September, "Team Penguin" will attempt the Great North Run 2010 to raise money for Yorkshire Cancer Research. The team is lead by Richard Logan who did the 2005 run in a penguin suit, inspired by
Jack Dee's beer adverts for John Smith
. This year, Richard will be joined by Laura Cawood, John Bretherick, Ben Brosnan, Oliver Anderson and Tom Haynes.
More >
Free bowls and tennis for over 60s

Age Concern and Salts Sports are organising free summer bowls and tennis coaching, games and activities with refreshments at Salts Sports Association. These sessions will run each Friday from 1 - 9pm from the 23rd July to the 27th August at Salts Sports Association. The activities are open to anyone over 60 years old. Over 60's tennis coaching is played with...
More >

Local men, Tom and Steven, have set up a new website to aid recycling. Scavenger is a web based community that allows members to give away or search for unwanted items in the most straightforward way possible. All transactions are free of charge. Members give rather than sell, they acquire rather than buy.
More >
Saltaire Bandstand, 2010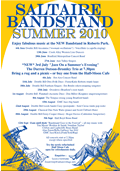 The bandstand is back! Wonderful, free events in Roberts Park, now graced with a beautiful bandstand. See the list of events throughout the summer.
More >
New look website for URC

The Saltaire United Reformed Church website has a new look. Visit the website and read the latest report on the church's restoration project.
www.saltaireurc.org.uk
Saltaire Cottages goes online

Saltaire Cottages
is a new website featuring 2 lovely holiday properties in the heart of Saltaire, owned by Anne and Roger Heald who ran the Tourist Information Centre and Gift Shop on Victoria Road. Anne and Roger have been involved in Saltaire's community for many years.
More >
Wycliffe School Summer Fair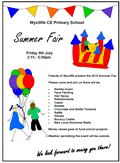 Wycliffe School on Saltaire Road has their annual summer fair on Friday 9th July starting at 3.15pm.
Support this event! More >
Jazz in Roberts Park, 3rd July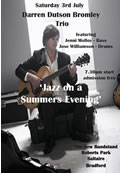 There is a free
evening
concert in Roberts Park on Saturday 3rd July, beginning at 7.30 pm. Now that the Park has an actual bandstand, following the Heritage Lottery refurbishments...
More >
Canal cruises on the Lizzie-Jean

Airedale Cruising normally provides luxury skippered day cruises from Skipton but for 2010 these unforgettable outings will be available as part of the Saltaire Festival...
More >
Coxon's Kitchen ordered to change name
Matthew Coxon who owns the delicatessen on Gordon Terrace in Saltaire has been ordered to change the name of his shop by TV chef, Alan Coxon, who has registered "Coxon's" as a trademark. Matthew, whose shop opened 18 months ago, is now forced to rebrand his shop as something else. He has asked locals to help him come up with a new name for the deli, which has become a very popular and well regarded shop in the community. Please contact Matthew on (01274) 597008.
Yoga at Victoria Hall

A new Dru Yoga class is starting at Victoria Hall on 22nd June, 7.30-9pm. The class is suitable for all levels and abilities. Why not come and enjoy the many benefits of Dru Yoga: improve your posture and flexibility; ease tension in your mind and body and enhance your sense of well-being. For more information and to reserve your place, contact Lyned Davies on 07970 593950 (after 6pm) or
lyned.davies@hotmail.co.uk
.
Cost: £30 for 6 classes or £6 drop-in rate.
6 hour Life Drawing Marathon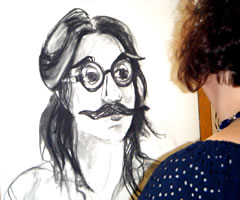 A 6 hour marathon drawing session will take place in The Glen Room, Victoria Hall on Sunday 6th June. The idea behind the sessions is to create an intimate, relaxed, fun environment where people can develop and explore drawing from life. " More >
Eva Salt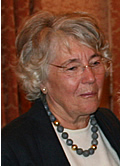 It is with great sadness that we share with you the news that Eva, wife of Denys Salt, died on 20th May in Austria. Her funeral was held in Graz at the local Evangelical Chapel on Friday 28th May. Eva and Denys, great grandson of Titus Salt, visited Saltaire regularly and were last here in September 2009, supporting the Saltaire Festival. At this time of great loss, Denys contacted his friend, historian, Dave Shaw to send good wishes on the occasion of the recent Bandstand Opening in Roberts Park. Dave Shaw attended the funeral with his wife, Ann, as did Rev. Paul Breeze of Saltaire's United Reformed Church.
Love and sympathy is sent to Denys and his family from his many friends in Saltaire.
Sheet Music in Saltaire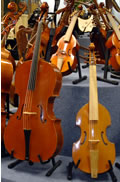 Staff at The Early Music Shop at Salts Mill, want to remind local people that they can purchase sheet music and syllabus material from the shop. The Early Music Shop houses the Music In Print section...
More >
Titus bust for sale at Simply Saltaire exhibition

Organisers of the Simply Saltaire exhibition, which will be launched on the 3rd May to raise funds for an education centre at the Saltaire United Reformed Church, have been amazed by an anonymous donor who has given a bust of Sir Titus Salt for sale.
More >
Park Commemorative Event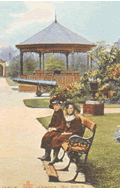 On Saturday, 22 May, a commemorative event to celebrate the refurbishment of Roberts Park and the opening of the new bandstand will take place.
More >
The 32nd Day of Dance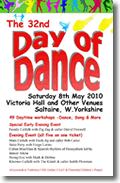 Another Day of Dance will take place on Saturday 8th May. There will be workshops, an early-evening Ceilidh and a big evening event. Download the pamphlet with all the information on it, including the booking form.
More>
Tennis for all

Calling all budding tennis players! Salts tennis club who are championing 'affordable tennis for all', in the local schools and parks, are holding their first club open day on Sunday 9th May from 1 to 4pm at the clubs courts at Salts Sports Association (the playing fields at the bottom of Victoria Road Saltaire).
More >
Saltaire Action Plan, 2010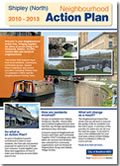 Following consultation with the local community, there is now an Action Plan for Saltaire to take us to 2013. The issues identified by residents now have a response on how to tackle them and what might be achieved.
More >
More about Ann Moss...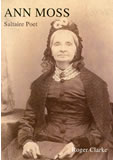 More research has emerged from Mary Whitehead of Ashton on Ann Moss, a deaf, single parent who wrote poetry about Saltaire for a living. Mary shares her research with us.
More >
Eight street signs to go!

Saltaire Village Society is looking for sponsors to complete a project begun by a founding member, the late Clive Woods. The aim is to strengthen Saltaire's identity. Since 1999, distinctive blue-and-white street signs (based on the original pattern) have been slowly replacing black and white signs in the village.
More >
Which way for the Saltaire roundabout?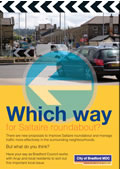 There are new proposals to improve Saltaire roundabout and manage traffic more effectively in the surrounding neighbourhoods. But what do you think?
More >
Happy Birthday Rose and Brown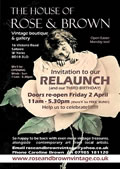 A birthday party will take place in the vintage boutique and gallery on Victoria Street to celebrate the shop's rescue and relaunch. Everyone is welcome. Details of the next Rose and Brown events also appear, including the summer ball.
More >
Biodiversity Resource Pack

Charles Darwin's home and neighbourhood at Downe, in Bromley, has been proposed as a World Heritage Property. A celebratory educational pack has been produced to encourage children to follow in Darwin's Footsteps. It's launched in March and will be availabile as a
free downloadable resource
for all schools.
BBC's Antiques Roadshow comes to Saltaire

BBC ONE's ever popular Sunday evening programme ANTIQUES ROADSHOW will be filming at the Victoria Hall, Saltaire, on Thursday, 29th April, 2010. This will be presenter Fiona Bruce's third year...
More >
Vintage Home and Fashion Fair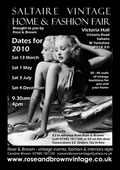 Brought to you by Rose & Brown, we have up to 40 stalls of the LOVELIEST vintage fashion and homewares. All from the 1920s to the 1980s, you can escape into past eras and take home one-off treasures and bargains that express you and your style!
Dates of 2010 fairs are on the poster. More >
Saltaire Action Plan - Results!
Jane Dale of Bradford Council recently consulted locals on their concerns and how Saltaire could be improved. Here are the results of that consultation.
More >
It was THIS big!

Kevin Sunderland reports the catch of a 23 inch sea trout in the River Aire. The fish was returned unharmed...
More >
Saltaire Action Plan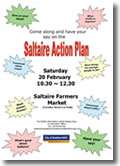 Jane Dale of Bradford Council invites you to share your ideas to make Saltaire a better place to live and work. You can meet her at the Saltaire Farmers' Market on February 20th, or get in touch with her by email or phone.
More >
The World of Rose and Brown

Sadly, on the 20 February, the House of Rose and Brown on Victoria Street, will close. Caroline Brown, shopkeeper, artist and vintage doyenne, will be a shopkeeper no more. But it's not the end.
More >
Saturday courses at Shipley College

Shipley College is offering several different creative courses to run on Saturdays from 10am to 4pm. The College is keen to hear ideas for new courses.
More >
Rose and Brown Vintage Fair - new Bradford venue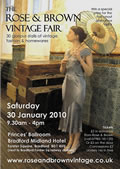 The Rose & Brown Vintage Fair on Saturday 30 January 2010 will be at the Midland Hotel, Forster Square, Bradford. 30 stalls of the loveliest vintage fashion, homewares and collectables in the magnificent Princes' Ballroom...
More >
Buy a Saltaire street sign and make history
The Village Society wishes to complete the change in street-signs in the World Heritage area from Bradford black-and-white to Saltaire blue-and white, in honour of Clive Woods who started the project. Sponsors are needed for the remaining 23 signs to be changed over. Each sign costs £98 – cheques payable to Saltaire Village Society. SVS passes the entire amount to the Council sign shop – no administration costs! If you would like to be a sponsor, please contact Molly Kenyon:
mkenyon@freeuk.com
New Year's Eve at Victoria Hall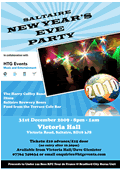 The New Year's Eve party at the beautiful and historic Victoria Hall is a celebration for the whole community and is also raising money both for a local junior rugby club tour and for the Bradford City Burns Unit Appeal.
More >
David Starley, Local Exhibition
Local artist, David Starley, first studied art at Sydney University whilst working in a steel foundry. Although he then chose to follow a career in archaeology, he continued to develop his painting skills in various media. As an archeologist he has travelled the world while continuing to develop his painting skills.
More >
Kath Libbert Jewellery Exhibition
BRIGHT / LIGHT is a showcase of work by ten sparkling new graduates and two highly talented 'nearly new' designers - both graduates of the prestigious Masters course at London's Royal College of Art.
More >