MORE STORIES...
DAVID STARLEY, LOCAL EXHIBITION


Local artist, David Starley, first studied art at Sydney University whilst working in a steel foundry. Although he then chose to follow a career in archaeology, he continued to develop his painting skills in various media. As an archeologist he has travelled the world while continuing to develop his painting skills. More >>
KATH LIBBERT JEWELLERY EXHIBITION


BRIGHT / LIGHT is a showcase of work by ten sparkling new graduates and two highly talented 'nearly new' designers - both graduates of the prestigious Masters course at London's Royal College of Art. More >>
PEACE AND CRAFTS FAIR

Organised by Yorkshire CND, the 6th Bradford Peace and Craft Fair will take place on Sat. 21st November at Victoria Hall, Saltaire, from 10 am to 4 pm. More >>
THE SALTAIRE BOOK SHOP
Keep your local bookstore busy! Fast turnaround on ordered titles (can order on-line); weekly guest events; secondhand books bought and sold; children welcomed. Have a cuppa, a read and a chat. October's Reading Group will be reading "That's me in the corner" by Andrew Collins, about the NME office in the early 1980s. The book is available to purchase and new people are welcomed.
www.saltairebookshop.com
SALTS TENNIS CLUB NEWS

It's a big step forward as Salts Tennis Club complete phase 2 of their development. Philip Davies (local MP) and Liz Wilson... More >>
KEVIN CUMMINS EXHIBITION

Salts Mill is proud to present Kevin Cummins' definitive photographic exhibition of the Manchester music scene from 1976 to the present day. We will be opening the roof space from 11am - 4.30pm every day to house iconic photographs of Joy Division, The Smiths, Happy Mondays, Oasis... More >>
COXON'S KITCHEN - 1ST ANNIVERSARY
Coxon's Kitchen, Saltaire's delicatessen at 59 Bingley Road, is celebrating its first anniversary. Between 2nd and the 11th October, there will be some extra special offers and prizes. Customers have the chance to win a luxury food hamper and other great prizes.
www.coxonskitchen.co.uk
THE SALTAIRE FESTIVAL


This annual festival takes place from September 10 - 20th. As always, there's an exciting programme of performances and events. You can download the brochure and book tickets on-line. Many of the events are FREE! Enjoy the festivities!
Visit the SF website >>
COSTUME CAVALCADE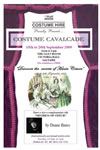 This promises to be a fabulous exhibition of Haute Coture costumes which will run from 15th to 20th September as part of the Saltaire Arts Festival. More >>
HAMMONDS SALTAIRE BAND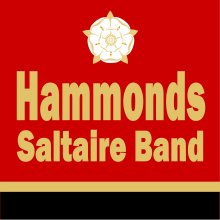 19th September, Victoria Hall at 7.30pm
Hammonds Saltaire Band has been rooted in Saltaire for over 150 years. They promise a superb concert based on the excellent programme devised by Musical Director, Morgan Griffiths. For more info, visit www.hammondsband.org.uk
HORSES BRAWL AT SALTS MILL!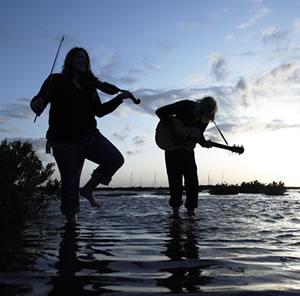 The Early Music Shop is delighted to present a concert at Salts Mill by Horses Brawl, one of the UK's most vibrant performing duos. Described as 'Early music with a bite" by BBC Radio 3's Sean Rafferty, Horses Brawl interweave fragments of diverse melodies to form engaging and inspiring new pieces. More >>
NON STOP READING OF THE BIBLE AND APOCRYPHA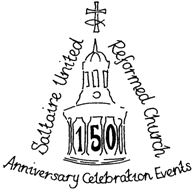 To preserve Saltaire United Reformed Church as both a living church and a priceless piece of our heritage, a restoration appeal has been launched to coincide with it's 150 year anniversary. This event is in aid of the restoration fund. More >>
KATH LIBBERT, JEWELLER, WANTS YOU TO CHOOSE!


Kath Libbert's new, exciting exhibition, 'Choice' runs from 17th July – 27th September 2009 at her wonderful shop in Salts Mill. Kath has had a completely free hand to choose the collections and one-off pieces from jewellers she admires, without any of the parameters of a 'themed' show... More >>
THE SALTAIRE ARCHIVE

Every summer (for the past 5 years) Shipley College has staged an exhibition on the history of Saltaire. There are books, photos, artefacts, DVDs and memorabilia to sift through. It's fascinating stuff and everyone is welcome. The exhibition has just opened and runs for a month through the summer, Tuesday to Friday from 10 am to 3 pm. More >>
DO YOU WANT VICTORIA HALL TO SERVE ALCOHOL UNTIL THE EARLY HOURS?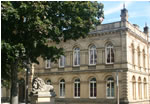 Shipley College, as manager of Victoria Hall, has applied for an alteration to their licensing application to serve alcohol until the early hours at certain events. Residents living nearby to Victoria Hall already experience noise disturbance late at night... More >>
"MAKIN' LIGHT" - EDDIE LAWLER'S RADIO PLAY

Update: 13 July 2009: Eddie's radio Play "Makin' Light" did not air on 13 July as previously reported. It will be broadcast next Monday 20th July at 3pm on 106.6FM by Bradford Community Broadcasting. More >>
BAROQUE MUSIC AT THE URC


Concertos and Sonatas by J S Bach, Telemann, Corelli & Vivaldi will be played by, Ensemble Diamonté, an Anglo-Japanese ensemble based in Holland,
Wednesday 12th August at 8pm. More >>
UPDATE ON ROBERTS PARK
Download the Acrobat file from HTLA, the firm that won the lottery bid to transform Roberts Park. More >>
SALTAIRE FÊTE


The annual Saltaire Fête held in the grounds of the beautiful United Reformed Church on Victoria Road, Saltaire, will take place on Saturday 11 July from 2 p.m. For a small admission charge there are all the usual attractions including stalls, a café and entertainment.
EVELYN REYNOLDS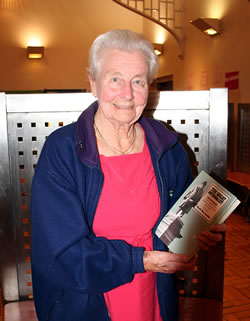 It is with great regret that we mark the passing of Evelyn Joan Reynolds, (nee Mason) of Wilsden, at the age of 95.

Evelyn, whose earliest memory was of seeing a zeppelin during the First World War, had led a full life... More >>
THE HALF MOON CAFÉ


Roberts Park, Saltaire
presents


Acoustic Music on Sunday Afternoons


Summer 2009
The Music is Free
Come Along and Listen between
2 and 4pm
See programme
VICARS CAFÉ
VICARS CAFÉ BISTRO celebrates its second birthday on Friday!
Find out more about this lovely café bistro, run by a fully fledged vicar, as the name suggests.
Food for the soul! More >>
AN EVENING OF CHORAL MUSIC
including excerpts from Dvorak's Mass in D by Chordiality
at the United Reformed Church,
Victoria Road, Saltaire
Saturday, 20th June, 2009 at 7-30pm
Tickets £5.00, Conc. £4.00
at the door or ring 01274 593923
Proceeds in aid of
Church Restoration Fund.
BUY A SALTAIRE STREET SIGN AND MAKE HISTORY


The Village Society wishes to complete the change in street-signs in the World Heritage area from Bradford black-and-white to Saltaire blue-and white, in honour of Clive Woods who started the project. The Society is asking for donations of £98 which includes the sign and installation and the donor will receive a miniature replica. There is no VAT to add if the Society places the orders for the signs. There are up to 40 opportunites remaining in the village. This can be arranged through Eddie Lawler or phone 07891 254809.


Added May 2009
SALTAIRE VILLAGE SOCIETY NEWS


Saltaire Village Society AGM and Social
is on Tuesday 2nd June 2009 at Caroline St Social Club from 7pm. Everybody welcome!
7pm to 7.30 Arrivals and hellos
7.30 to 8.30 AGM including annual review, election of Committee and plans for year ahead
8.30 Music from GMC Jazz
If you are interested in joining the
Committee please email
secretarysvs@googlemail.com

PHANTASM IN CONCERT AT URC, 23 MAY


Phantasm are one of the most exciting and best known viol consorts performing today.
More >>
NEW COACH FOR SALTS TENNIS CLUB


Richard Senior has been appointed the head coach at Salts Tennis Club. The "Affordable Tennis For All" initiative continues and the Open Day Sunday is on 3rd May from 1 to 4pm.
FREE COACHING!
More >>
'BAROQUE BOP ' RECORDER & VIOLIN WORKSHOP


The Early Music Shop is delighted to present a children's workshop for recorder and violin players - years 4-8 (ages 8-13). It takes place on Saturday May 2nd 10.30 am – 12 noon. More >>
CONCERT AT URC, 2 MAY 2009


Four of the UK's finest instrumentalists present a mixed bouquet of diverse, joyous and unusual musical 'blooms' in a delightful concert of virtuoso baroque music from Italy and England for the May Bank Holiday weekend... More >>
DEAD THREADS: ROSE AND BROWN RESCUSITATE OLD CLOTHES
Launch: Saturday 2 May. Breathe new life into unloved clothing. This is an opportunity to be part of a movement that is rejecting mass-market production and consumerism by refashioning old clothes. More >>
GETTING MARRIED? THE BIG RING THING!


Brides-to-be who are looking to make a big statement on their big day need look no further for their jewellery than Kath Libbert Jewellery Gallery's 8th Alternative Wedding and Valentine Show taking place from 8th February to 3rd May 2009. Alongside over 20 new collections of stylish, contemporary jewellery and accessories, The Big Ring Thing showcases amazing rings from 4 leading designers, guaranteed attention grabbers - these are perfect rings for big personalities! More >>


Added: 2 March 2009
WALKING CONFERENCE IN SALTAIRE -

CANCELLED




This event has now been cancelled.

An event looking at the economic and environmental benefits of walking is being held on Saturday 14th March at the Victoria Hall in Saltairebetween 10.45 and 3.00. Organised by SCENe, a business association linked to the Settle-Carlisle rail corridor, the conference is open to anyone with an interest in walking... More >>


Added: 2 March 2009
SALTAIRE ART PRINTS ON SALE

Saltaire art prints are now on sale through this website. The Boathouse, captured in March 2006 after a snow storm is the first to be published. You can buy the print on-line - it's available in different sizes up to 32" x 19 inches, approx. More prints of Saltaire will be available soon. More info >>
PIRATES AND PRIESTS IN SALTS MILL!

Red Priest will perform 'Pirates of the Baroque' at Salts Mill, Saltaire, West Yorkshire, on Friday 13th March 7.30pm. The concert is presented by the Early Music Shop, the world's largest Early Music specialists, situated at Salts Mill, Saltaire. More >>


Added 10 Feb 09
90 MILE WALK DEVISED BY SALTAIRE COUPLE


Walkers from around the country are gearing for the start of the walking season in Spring to tackle a new long distance route which starts in Saltaire. More >>
BACH'S BRANDENBURG AT THE UNITED REFORMED CHURCH

On Sunday 8th February 2009 Skipton Building Society Camerata will perform the first in a series of three Brandenburg Concerts in the United Reform Church, Saltaire. Bach's Brandenburg Concertos 1 and 5 are programmed alongside Haydn's C Major Cello Concerto and Mozart's Symphony 33. Tickets for the evening are £12 (£10 concs) are available online from the Camerata website or from the Box Office 01756 707606.
TREES ARE FOR THE AXE

Trees that campaigners thought had been spared are now to be axed in a sudden about-turn by Bradford Council's Shipley Planning Committee. Campaigners are angry and devastated. More >>
1911 CENSUS NOW ON-LINE


The 1911 census is now online and will provide a huge amount of info on Saltaire social history. "It is getting big hits at present, but coping," reports Dave Shaw, (pictured) founder of the Saltaire History Club... More >>
FASHION FAIR FROM THE HOUSE OF ROSE AND BROWN

Join us for the next Saltaire Vintage Home & Fashion Fair on Saturday 31 January at the glorious Victoria Hall in Saltaire from 9.30am - 4pm. With around 25 stalls there are lots of vintage clothing, accessories and homeware bargains to be had! More >>
REPRIEVE FOR TREES ON ACCIDENT BLACKSPOT JUNCTION OF VICTORIA ROAD
Helen Duffy, a leading campaigner to save the trees threatened with the axe on the junction of Victoria Road and Saltaire Road is relieved to report that a compromise has been reached regarding the fate of the trees. Following a public consultation... More >>
SALTAIRE BOATHOUSE - NEW PLANS EMERGE
Punch Taverns, owners of the historic Boathouse pub, now derelict following an arson attack last year, have applied for planning permission from Bradford Council to refurbish the building and extend it. Plans are available on the Bradford Council website. Follow this link >>


Added: 1 January 2009
A THOUGHTFUL START TO 2009: MEDITATION CLASSES
Just by doing a simple breathing meditation for a few minutes each day we can gradually reduce this stress. We will feel more calm and relaxed and more able to deal with difficult situations effectively. Our relationships with others will improve and many of our other problems will fall away. More >>