Salts Mill Late Night Christmas Opening
Thursday December 9th, 2010
All shops, galleries & restaurants open til 9pm*
Join us for complimentary drinks, nibbles & music – & some fantastic special offers.
At 7:30pm HAMMONDS SALTAIRE BAND will strike up for very special festive concert in the 1853 Gallery - entry free.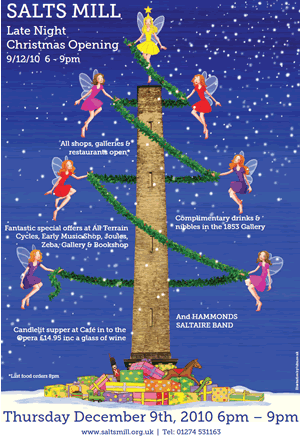 Mouse over image to enlarge
Special offers for one night only include:
All Terrain Cycles: 10% off all purchases**
Early Music Shop: 10% off Sheet Music, CDs, selected Christmas Gifts & Stocking Fillers.
Joules: 20% off all purchases
Zeba: 10% off on rugs and 20% off on Zeba furnishings & fabrics.
1853 Gallery and Salts Book & Poster Shop: 10% off all purchases.
And why not try a 2-course candle-lit supper in Café in to the Opera
£14.95 inc. a glass of wine
Booking for both the Diner & the Café is advised – tel 01274 531163.
Parking at Salts is, as ever, free. In the evening, you can drive all the way up past the chimney and park directly outside the main entrance. Salts Mill is accessible by train from Leeds, Bradford and Skipton. If you are using satnav please use postcode BD18 3TT and keep driving up to the front of the Mill.
www.saltsmill.org.uk Tel 01274 531163

* Last food orders 8pm.
**All Terrain Cycles - offer not in conjunction with any other deal