Saltaire Triptych by Bradford Illustrator, Tom Woolley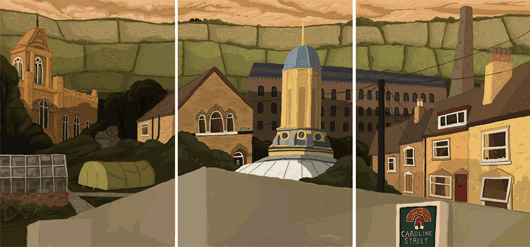 Tom Woolley is a freelance illustrator living in Bradford and has produced a wonderful series of pictures inspired by Saltaire.
"The architecture and history of the village is very appealing and I wanted to try and capture the prominent landmarks whilst trying to evoke the feeling of a late summer's evening."
Prints are available to buy online and will be exhibited in the Saltaire Arts Trail, May 2011.
To see more of Tom's illustrations, visit: goryjackal.blogspot.com
or email: tomcwoolley@gmail.com
Left: A view from a little bar in the main town square of Breda, Netherlands.

Above: Cycling in London

All images are copyright of Tom Woolley