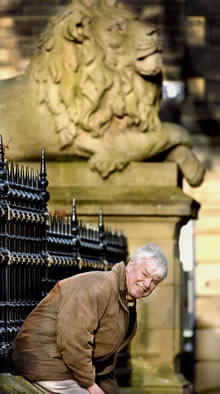 Eddie Lawler is an award winning writer and muscian who lives in Saltaire. His entertaining, and often light hearted songs and poems have the gravitas of social comment.
Eddie has released CDs of his music including Songs of My Times, Bradford Beck and the Baildon Sky Rocket.
Eddie also writes musicals with strong Yorkshire themes. Saltairy Tales premiered at the Saltaire Festival 2005 and was followed by a developed version, Saltairy Tales 2, performed at the Festival, 2006. Saltairy Tales, the picture book is now available.
Groups visiting Saltaire (especially schools) are welcome to have a copy of the script from the author and to borrow free-of-charge a DVD of the 2005 version. It's excellent preparation for a visit to Saltaire, informative (and fun!) both about the past and the present in the World Heritage Village. Eddie will also provide copies of his lyrics on request.
You can also "hire" the author to talk about his work for a modest fee.
Hear samples of Eddie's music from BRADFORD BECK

Hear samples of Eddie's music from SONGS OF MY TIMES
Hear sample of Eddie's music from THE BAILDON SKY ROCKET

Track 1 - The Ballad of Frizinghall