Saltaire Village Society AGM 24 Sept, 7pm. Caroline Club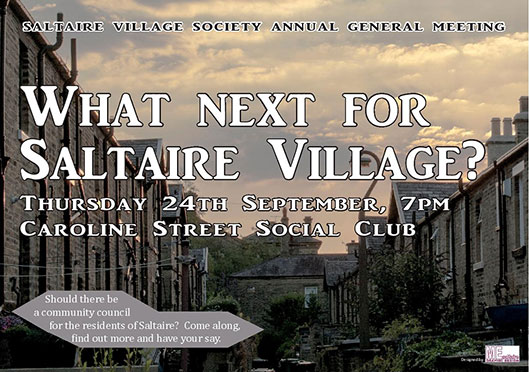 Local people representing local people

Vanessa Pilny writes: As a registered charity Saltaire Village Society (SVS) must hold an Annual General Meeting (AGM) every year. If you are interested in what we do and in what is happening in Saltaire, then please come along to Caroline's Social Club on Thursday September 24th at 7pm.
There will be a short business meeting followed by the main part of the meeting which will give people the opportunity to talk about their hopes for Saltaire and SVS. One suggestion that is gaining support locally is the formation of a "Community Council." In other areas these are called parish or town councils – about 16 million people across England live in one of over 8700 such councils which form the most local level of government.
A Community Council has an overall responsibility for the well-being of its local community. Its work falls into three main categories:

representing the local community
delivering services to meet local needs
striving to improve quality of life in the area it serves

A Community Council might provide and/or maintain some of the following services:
allotments
car parks
community transport schemes
footpaths

bus shelters
crime reduction measures
leisure facilities
It could also work with Bradford District Council on other services, for example:
tourism activities
local youth projects
open spaces
planning

street cleaning & lighting
public toilets
tourism activities
traffic calming measures
Community councillors would be elected every four years and would act as guardians of Saltaire and its residents. The council would have more power to represent Saltaire and would act as a two way conduit between residents and Bradford Council, improving consultation and giving all of us more of a say.
This will be the first in a number of meetings to gauge public opinion – please come along and join us.